The Hug and Pint presents:
Curse Of Lono
+ Izzie Walsh
Buy Tickets
Acclaimed London five-piece Curse Of Lono released their second album 'As I Fell' on August 17th. The album entered the Official Americana Album Charts at No. 10 and the Official Independent Albums Breakers Chart at No. 15. Produced by Oli Bayston (Boxed In) at Rancho V, a remote desert studio in Joshua Tree, and Flesh & Bone Studios in Hackney, the album is accompanied by a mini-documentary 'Somewhere In Their Heads' by Gregg Houston (Noel Gallagher, Two Door Cinema Club, Michael Kiwanuka, Foy Vance), which recently won Best Short Documentary at the LA Edge Film Festival, the Jukebox Film Festival in Nevada, Feel The Reel International Film Festival in Glasgow, Changing Face International Film Festival in Sydney, The Hollywood Sun Awards in California and the Cult Critic Film Festival in India. 'As I Fell' is the follow-up to 'Severed', one of the most critically acclaimed debuts of 2017, and builds on Curse Of Lono's deeply cinematic blend of harmony-laden Americana and driving, gothic alt-rock. It's a sound that owes as much to old faithfuls like The Doors and The Velvet Underground as it does to more modern practitioners of the form such as The War On Drugs and Wilco. Although some of the songs on 'As I Fell' revisit familiar themes like murderous jealousy and the death of loved ones, much of the album covers new ground. "Leuven", with its sumptuous string arrangement, recalls the stories Felix's grandfather told him about growing up as a half-Jew in Nazi Germany and a devastating train crash he survived in 1954 after the first football international between England and West Germany after World War 2. "It was one of the worst train crashes in Belgian history," says front man Felix Bechtolsheimer. "My grandfather and his brother were on their way home from Wembley, when their train derailed outside Leuven in Belgium. He told me that he was never able to shake the image of their coats soaked in blood as he and his brother dragged the bodies from the wreck." Joining Felix in Curse Of Lono, who formed in London in 2015, are Joe Hazell (lead guitar and vocals), Dani Ruiz Hernandez (keys and vocals), Charis Anderson (bass and vocals) and Neil Findlay (drums). Curse Of Lono completed their first UK headline tour in May, including a sold-out show at London's Lexington, and appeared at several UK Festivals this summer as well as supporting Steve Earle, Southside Johnny, Cordovas and David Ramirez on separate European tours. They will be embarking on a second UK headline tour in November/December.
Line Up
Acclaimed new London five-piece Curse Of Lono released their debut album 'Severed' on April 7th. A sumptuously cinematic record that combines harmony-laden Americana with driving, gothic alt-rock, 'Severed' was produced at Gun Factory studio by Oli Bayston (Boxed In). The album follows Curse Of Lono's critically acclaimed self-titled debut EP, released last October, which also formed the soundtrack to 'Saturday Night', a short film of inter-connected music videos directed by Alex Walker. The film recently won Best Music Video at the LA Independent Film Awards, the London Independent Film Awards and Feel The Reel International Film Festival in Glasgow and has made the official selection at the International Music Video Underground in LA and the Sunlight International Film Festival in Moscow.
Founded and fronted by Felix Bechtolsheimer, formerly the singer-guitarist in British roots pioneers Hey Negrita, Curse Of Lono formed in early 2015, though the songs on 'Severed' were written over a 14-year period. They range from the perky, Paul Simon-ish new single 'Pick Up The Pieces' to the more lugubrious 'He Takes My Place', the almost jazzy 'London Rain' and the rootsy, rhythmic 'Send For The Whisky'. The album belongs as much to the Americana tradition and old faithfuls such as The Doors and Little Feat as it does to more modern, playful practitioners of the form such as Wilco and Beck.
Lyrically, the songs cover themes including infidelity and sexual jealousy, the death of friends, and Felix's personal struggle with heroin addiction. "Although 'Severed' is a dark record in places, it is not an addiction record," says Felix. "It's about growing up enough to be able to share a drink with the ghosts of the past without letting them push you around."
The album received incredible press internationally, most notably in the UK, US, Germany, Netherlands, Italy, Belgium, Spain, Ireland and across Scandinavia.
On release in April, 'Severed' entered the NACC Top 200 College Radio Chart in the US and Canada at No. 168 ahead of artists like Elbow, Feist, Strand Of Oaks, Brian Jonestown Massacre and Julia Holter, and peaked at No. 101 on the Muzooka College Radio Chart.
The album also caught the attention of several music supervisors and the track 'Don't Look Down' recently featured in the season finale of the US TV drama 'Kingdom.'
Following 3 consecutive sold out gigs in London and performances at The Great Escape, Camden Rocks, Isle Of Wight, Maverick, Wychwood, SummerTyne, Standon Calling and Y Not festivals, Curse Of Lono will be heading out on a number of UK and European tours this autumn (see below).
CURSE OF LONO LIVE:
European Tour with Chuck Prophet & The Mission Express: 27th October: Mono, Oslo, NO
28th October: Folk & Rock, Malmo, SE 29th October: Kulturtransport, Frelsdorf, DE 30th October: AB Club, Brussels, BE
31st October: Paard, Den Haag, NL 1st November: 013, Tilburg, NL
2nd November: Het Huis Verloren, Hoorn, NL
3rd November: N9, Eeklo, BE 4th November: Take Root Festival, Groningen, NL 5th November: Nachtleben, Frankfurt, DE 7th November: Sala Estense, Ferrara, IT 8th November: All'1.35 Circa, Cantù, IT 9th November: Cherrydon, Marseille FR 10th November: Sala BeGood, Barcelona, ES 11th November: Sala Stereo, Alicante, ES 12th November: Kafe Antzokia, Bilbao, ES 13th November: El Sol, Madrid, ES 14th November: Mardi Gras, A Coruna, ES 15th November: Sala Acapulco, Gijon, ES 17th November: ULU, London, UK 18th November: Trades Club, Hebden Bridge, UK 19th November: Belle Angele, Edinburgh, UK 20th November: Clwb Ifor Bach, Cardiff, UK 21st November: Boule Noir, Paris, FR
UK Tour with Low Cut Connie: 1st December: Brudenell Social Club, Leeds 2nd December: Bodega, Nottingham 3rd December: Gullivers, Manchester 5th December: Prince Albert, Brighton 6th December: Borderline, London 8th December: Cluny, Newcastle 9th December: Voodoo Rooms, Edinburgh 10th December: Nice'N'Sleazy, Glasgow
CRITICAL PRAISE FOR CURSE OF LONO:
"If dangerous living bothers you, look away now - but for everyone else, Curse Of Lono are a new beacon of darkness." MOJO
"The slide-fuelled romp 'Five Miles' and the evocative 'London Rain', with its 'Riders On The Storm'-recalling Fender Rhodes vamps, are revelations, as Bechtolsheimer offers a sinewy, cinematic take on big-sky country roots rock." UNCUT
"Exile On Main Street meets William Faulkner." CLASSIC ROCK
"The best Shins-cum-Fleet Foxes record the world will ever hear... easily stands out as the best record of 2017. A record so brilliant and accomplished that in a fairer world, would outsell anything else on the radio today." PERFORMER MAGAZINE (US)
"Into Bon Iver? Try Curse Of Lono." GQ MAGAZINE
"Sexy, sweaty and savage, Curse Of Lono explore the heart of darkness with unflinching accuracy." SHINDIG!
"One of the most exciting new bands around… Mixing influences like Wilco, The Velvet Underground and The Doors, there's no shortage of highlights and heartfelt songs on this ten-track album." LOUDER THAN WAR
"Mean, moody and magnificent... As debut records go Severed is hard to fault and will appeal to country rockers and hipsters alike. It also begs the question, how on earth are they going to top this?" COUNTRY MUSIC MAGAZINE
"This record is a Southern Gothic dissertation spread over 10 tracks, and Curse of Lono sound somewhere between Nick Cave and Wilco, or if The National had a morose Southern twin." RELIX MAGAZINE (US)
"Conjures up many fond memories of Neil Halstead and Mojave 3… A refreshing dose of Americana." PASTE MAGAZINE (US)
"Perfect for night drives and existential evenings." MAGNET MAGAZINE (US)
"Take it for a ride, it's a lot of fun." UNDER THE RADAR (US)
"('Severed') pulls off the difficult task of offering a fresh take on rootsy Americana, in part thanks to its leader's poetic lyrics (Faulkner would be proud), and in part due to a cinematic sweep that owes much to a band like Tindersticks or the recent soundtracks by Nick Cave and Warren Ellis." JIM DEROGATIS, WEBZ 91.5 CHICAGO (US)
"A grown up collection of songs that range from heartache, to sex for escape, to the darkest of humours and the general human condition." NO DEPRESSION (US)
"Bechtolsheimer and his compadres make music like nobody else on the Americana scene." R2 MAGAZINE
"One of the most exciting things to come out of the UK in years. There is not a weak track on the album." NEW NOISE MAGAZINE (US)
"In a class all of its own." MAVERICK MAGAZINE
"I can only describe this as the unwanted bastard child of the Fleet Foxes and The Shins, who spent too long in the orphanage and as a result of his unloved upbringing, has a dark and twisted outlook on life but a fierce determination to succeed. This album is infectious, it sucks you in! ...This album makes me want to hit the road and drive through the night." TNT MAGAZINE
"If you have affection for folky Americana music, and all of its often beguiling component parts, then this is the album for you... A very promising first long player for a band who deploy killer melodies and craft skillful arrangements." VIVE LE ROCK
"A gorgeous album." BLUES MATTERS
"They might just be the best new thing this year." AMERICANA-UK
"A shockingly sweet debut that is equal parts Teenage Fanclub and a gothic Big Star." INNOCENT WORDS (US)
"Hands down my new favourite band." BLURT MAGAZINE (US)
"Utterly, utterly mesmeric." MUSIC_NEWS.COM
"With Severed, Curse of Lono bring an edge to Americana, crafting a record that cuts into the darker aspects of life, yet somehow making them just as beautiful as the happier ones." THE DAILY COUNTRY
"Curse Of Lono prove the future of Americana is just around the corner." MUSIC SCRAMBLE
"Swooshes along like a plush car through wet nighttime city streets." RECORD COLLECTOR
"Curse Of Lono create cinematic Americana filled with harmonies and eerie undertones." GIGSLUTZ
"An album that, quite simply, doesn't have a single weak song... A rich, inviting, beautifully balanced sound that criss-crosses the Atlantic, references a range of influences, but remains steadfast in its individuality." FRUK (FOLK RADIO UK)
View Profile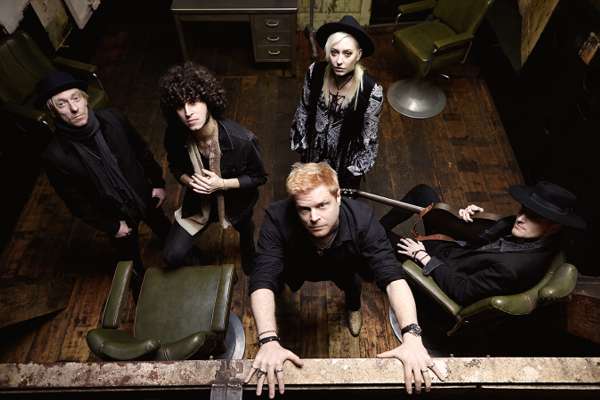 Singer Songwriter Izzie Walsh and her Americana band have performed across the U.K. taking venues and turning them into Tennessee front porches. Starting 2018 off with sold out shows at The Deaf Institute Manchester, London's Slaughtered Lamb coinciding with the release of the band's brand new 5 track E.P Take Me Back.
Being a mainstay of Manchester's acoustic scene Izzie is always accompanied by her brilliant band, who use traditional instruments such as banjo, mandolin and dobro as well as double bass and drums, creating catchy rhythms and melodies you can't help but sing along to.
Together they have played numerous shows and festivals, including Blue Dot, Buckle & Boots, Indie Week and many more. Their music takes influence from The Lumineers, First Aid Kit, Mumford & Sons and Johnny Cash ensuring that these English hillbillies are like a double whiskey in your Earl Grey, putting a modern kick into their music that will makes your ears tingle.
The band will end 2018 performing in Canada after winning Indie Week UK's 'Best of The Fest' they will be back just in time to support Curse Of Lono on their UK Tour. Then will start the new year performing at Tamworth Festival and gigging Australia's Gold Coast with Buckle & Boots on Tour!
"Look out for Izzie Walsh - a star in the making!" - Jimmy Wagg : BBC Radio Manchester
"Izzie Walsh never fails to pull at your heartstrings and provide a hugely enriching musical experience." - David Sue : Manchester Evening News
Izzie Walsh 'Take Me Back' - "It's a great song, the chorus is genius" - Natalie Eve-Williams : BBC Introducing
View Profile