Ada Lea
+ Stef Chura + Bobby Kakouris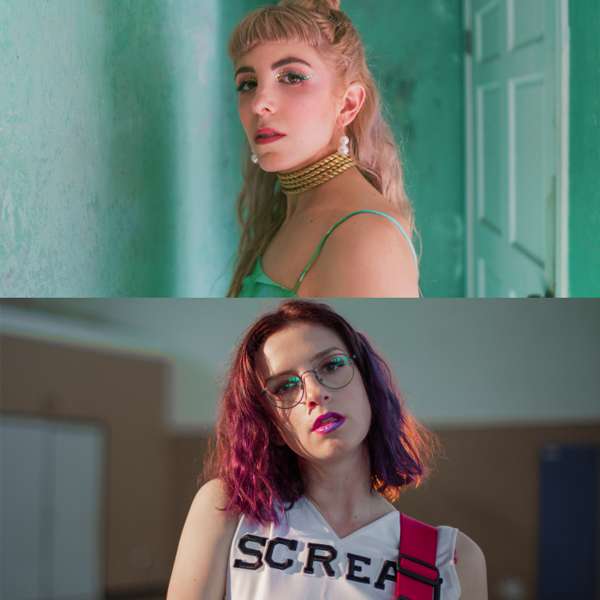 The Hug & Pint presents Ada Lea | Stef Chura
Ada Lea
Montreal, Quebec-based musician Alexandra Levy -- who records and performs as Ada Lea -- is also a painter and visual artist, and traces of her many creative abilities run throughout her debut album what we say in private, a beautifully colorful collection of profound pop songs to be released later this summer via Saddle Creek.
To her, music and visual art are different vessels for communicating similar ideas. Levy's appreciation of female artists -- including the writer Sylvia Plath, visual artists Frida Kahlo and Eva Hesse, and musicians Karen Dalton and Nina Simone -- provides inspiration and guidance, informing her use of multiple artforms as tools for self-expression. Whether it's creating music or art, "It's a world that I can build around me and sit inside," she says. Through all her work, Levy explores the concept of womanhood as it feels and looks to her, as well as love and how it transforms over time. She doesn't shy away from exploring uncomfortable and painful emotions, either. With the brightness of love, strength, and hope contrasted with the darkness of loss, suffering, isolation, and abandonment, the Ada Lea album what we say in private is a varied and vivid record that constantly seems to shift in the light, bringing together all the intricate influences she's collected over the years.
what we say in private began with a need to document the ending of an important romantic relationship. Following a tormented period of staying up all night (sometimes days at a time), frantically painting or writing songs as a means of coping, she journalled for 180 days in the hope of finding herself again. She conducted this period of analysis and introspection in private, like most of her creative pursuits, and the process eventually resulted in a rebirth: a rediscovery of self and a new sense of freedom and self-acceptance.
These chaotic feelings and the resulting catharsis are deeply felt in the final recording of what we say in private. Levy wanted the Ada Lea album to feel like a journal entry from those 180 days as she cycled through emotions. Throughout, she expresses feelings and thoughts that all humans experience behind closed doors and alone, but are conditioned to keep to themselves. This is reflected in the lyrics, the artwork, and the songs -- together forming a public exhibition of deeply private matter. The album is a collection of raw, confessional, and at times messy emotions, presented to a society that can fear such realness, often favoring the uncomplicated, curated, and manicured.
Levy delivers something very special on what we say in private. Bold and daring, but also gentle and vulnerable, the album finds new ways of presenting its vision from one inspired idea to the next, a big leap into the wider world with passion and exuberance.
Stef Chura
"For most people who create art I would assume there is some kind of deep unanswerable hole in your soul as to why you're making it…" So says Stef Chura ahead of the release of Midnight, her gritty, vehement new album, recorded and produced by Will Toldeo of Car Seat Headrest – and her first new collection of songs for the Saddle Creek label. Illuminating that search for answers with a fevered sense of exploration, Midnightis a bold leap forward from Messes, Stef's contagious debut album, with every aspect of her new work finding bold ways to express itself as it rips through twelve restless and relentless new tracks.
A couple of years on from the release of Messes, Stef is still based in Detroit, that most singular city which has seen it all, from the no-mans-land of its initial collapse through to the resurgent place it is now. Sticking around to help breed the DIY creativity. Stef found inspiration from the people she surrounded with herself with, more so than the place itself. It's no surprise that Midnightis testament to those kind of characteristics; a rugged and robust burst of defiance. "I'm usually dealing with the context of what I can't say or haven't said," Stef says. "A kind of spiritual bondage that I would say most people, probably a lot of female bodied ones, put themselves through."
Which is to say that if its predecessor was a raw, somewhat unadorned document of Stef's work, then Midnightis the muscular, swaggering evolution. "This album has a depth to it and a particular sound because of Will," Stef states regarding Toledo's input, whose spiky nuances can be found across the length and breadth of Midnight, the record presenting an exhilarating rush of sound and colour as Stef's spirited vocal finds and signature guitar sounds unravel alongside in a thrilling meeting of ideas and influences; dispelling demons, song by song.
Where Stef's voice was previously a somewhat ambiguous character, somewhat buried within her songs, here it is the striking opposite, an assured voice that drives the whole thing forwards. " I think a lot of Messes was lyrically unintelligible which was somewhat of a bummer to me. I had no self awareness that I was singing like that," Stef says. "With this album I wanted it to be clearer and more listenable, in a number of ways," Stef says. Proof of this outlook can be found on the edgy lead track 'Method Man', a boisterous three-minutes that melds jagged, skewed guitars with a distinctive voice that has a new-found sense of confidence, whether spitting spoken-word mantras during the exhilarating percussive coda or simply letting loose amid the squalling bluster of guitars.
You can find it elsewhere too, in fact it runs right through the heart of Midnight'stwelve tracks. Take the sweeping brilliance of 'Jumpin' Jack', a somewhat more refined three-minutes that bursts into a thrilling finale, or 'Sincerely Yours', a brooding four-minutes initially gives deserved space to Stef's voice and words more than ever before, before bursting into life with with a pent-up energy that positively roars from within.
"I used to only find peace in complete disorder, because order seemed completely not possible for me- hence my last album being called Messes," Stef confesses. "Even though some of these songs came from a similar time period, I've grown and changed a lot over the last two years, and what I've processed over the last couple of years is the change that is in expressed in these songs."
Equal parts thrilling and angsty, Midnightis a testament to the collaborative process, a record that makes the very most of those who came together to make it, but more than that, it's a firm statement of tenacity and perseverance, of not resting on your laurels but leaping forwards no matter the situation you find yourself in. From out of one day and into the next.
Line Up
Ada Lea
Stef Chura
Bobby Kakouris