Church Girls + Really Big Really Clever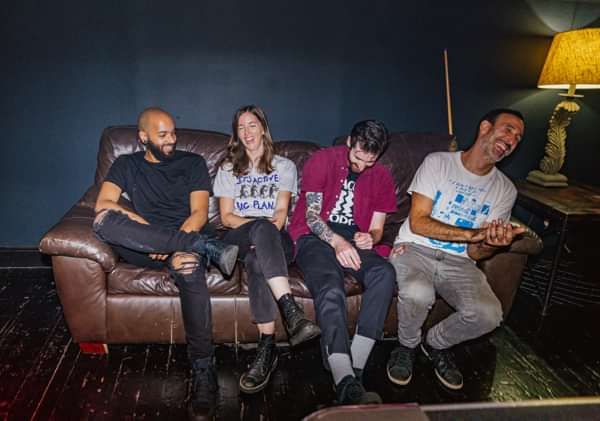 Philly four-piece Church Girls write propulsive melodies and achingly vulnerable lyrics wrapped in the throbbing anxiety of post-punk and joyous aggression of pop-punk. Formed in 2014 by Mariel Beaumont, the group has toured extensively across the US, UK, Canada, & Europe and been featured at Audiotree, Paste Magazine, Bandcamp New & Notable and more.
With a self-titled EP in 2015, Church Girls made their bones with tense gems of melodic indie rock that fused a forthright lyrical sensibility with the energy of punk rock. This songwriting ambition carried through their next releases, including the 2019 EP Cycles and most recent full-length, The Haunt, which showed off a renewed focus on powerful, unrestrained circle-pit-inducing energy and a maturation in song construction and cutting lyricism.
Their newest effort, Still Blooms, with producers Scott Solter and John Pfiffner at the helm, results in a more cinematic and dynamic sound than ever before. The band itself is operating at peak capacity, with new guitarist Mitchell Layton offering enormous, widescreen riffs and gentle, atmospheric playing in perfect tandem. The group's rhythm section coasts on the strengths of Vince Vullo's lithe, bubbly, driving bass work and powerful, artful arrangements of drummer Julien Varnier, both of whom also contribute vocals.
At the center of this carefully orchestrated cacophony is Beaumont, who has harnessed her impressive vocal range and power into a tool of both destruction and healing-- she howls lyrics about addiction and attempts to break free from toxic relationships with the conviction of a runaway train and controlled beauty of a church choir.
Opener "Surface" vaults from a careening, glimmering opening riff into a dark, spacey verse that offsets the sticky, gang vocal-laden chorus perfectly. "Vacation" marries subtly speedy and deliriously catchy instrumentation with a vocal and lyrical desperation that is unmatched anywhere else in the scene.
The album confronts heavy themes while refusing to let the struggles of life smother its hope, enthusiasm, and energy. The lyric in "Undone" that the album draws its title from ("Unwind the clocks, pull the blinds, and you'll find the sky still blooms") feels like a thesis statement. Chiming guitar melodies alongside stuttering palm-mutes and gang vocals express an irrepressible urge to find the bursts of light that shine through the cracks of even the darkest tunnels. The final line ("Hate that I'm getting used to this sort of thing") seems like resignation in the abstract, but with Beaumont's triumphant delivery, it reads more like a proclamation of perseverance.
With Still Blooms, Church Girls have crafted their most emotionally affecting album yet-- devastating and desperate in one moment, ebullient and sanguine the next, and yet overcoming any and all obstacles to become a cohesive, succinctly catchy and uplifting statement of purpose.
Line Up
Church Girls + Really Big Really Clever