Celtic Connections: Broken Chanter
Broken Chanter + Eve Simpson
Buy Tickets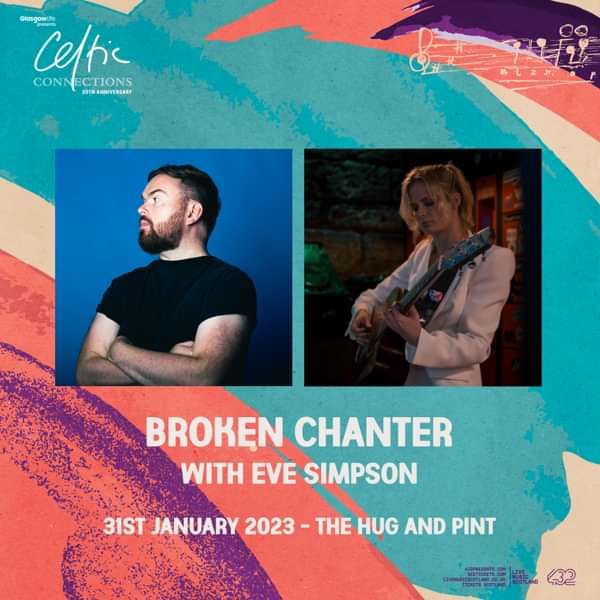 Broken Chanter is David MacGregor, on his lonesome, or accompanied by an array of very talented musicians. MacGregor spent 2007-2017 as the principal songwriter of Scottish Alt-Pop darlings Kid Canaveral - a band that could get you to dance, laugh, and weep all in the space of a set. Their Debut LP Shouting at Wildlife was described by The Herald as "a Scottish pop classic that should be mandatory in every record collection in the country", with follow-up Now That You Are a Dancer being nominated for the Scottish Album of the Year Award in 2014.
A light-hearted raconteur and heavy-hearted singer when accompanied by just a guitar, and a whirling dervish of noise and melody when fully electric, MacGregor released the eponymous Broken Chanter to critical acclaim in September 2019 (A stunning, stately debut - The Skinny). It is a record which paints an emotional and expansive soundscape with a distinct sense of place, that showcases MacGregor's ear for melody and dexterity at tugging heart-strings.
With touring cut short by - you guessed it - the COVID-19 pandemic, MacGregor sat in his home, freaked out for a bit, then dusted himself off and set about writing a new record. The resulting Catastrophe Hits was recorded and produced by Paul Savage at Chem 19 and is a bold, thrilling and hopeful kick-back against creeping fascism, disaster capitalism, and humanity's apparent death spiral. Featuring a stellar cast of musicians (Audrey Tait, Jill O'Sullivan, Graeme Smillie, Bart Owl, Man of the Minch, Gill Higgins, and Ali Hendry) and jam-packed with hooks and humour, Catastrophe Hits is an album filled to the brim with sharp pop sensibility and sublime gentler moments. ​ Both are available now on Olive Grove Records and Last Night From Glasgow.
---
Eve Simpson, songwriter, storyteller, and collaborative community artist from South Shields, situates her Geordie lilts in the Celtic surroundings of Edinburgh. Her new releases seek creative liberation from being torn between two places, romanticising her 20s, and her ongoing fascination with people and their stories. Her songs are inspired by the piano-centered storytelling of Carole King, soaring vocals of Kate Bush, and the honest lyricism of her hero, Joni Mitchell. From magic, to love, to societal observations, Eve writes about everyone and everything, as a means to navigate the world.
Returning to releasing in 2022, Eve has received critical acclaim across OUT NOW, Flex and Names Magazine, continuing to feature on BBC Introducing, adding to prior support across Introducing festival stages and BBC 6 Music. In addition to previous tours with Martha Reeves & The Vandellas, Eve debuted her new live material in Paris and across the Scottish Central Belt this Summer, including performances at Sneaky Pete's and Sofar Sounds. A firm crowd favourite, her upcoming release, The Strangest Company, features collaborations with Scottish fiddle-player Eryn Rae, recorded across Newcastle and Leith.
Previous collaborations have seen Eve gig with Beth Nielsen Chapman, Kathryn Tickell, and The Lake Poets, as well as scoring the North East segment of a FOCAL International award-winning film. Attending the Ivor Novello Awards in 2022, Eve is currently an In The Room representative for the Ivors Academy, working on the impact of working outside of a major music city on the mental health of music industry workers. Eve also co-runs an independent record label, Intarsia Records, focussing on underrepresented artists in the UK.
Line Up
Broken Chanter
'Eve Simpson has a voice as pure as a mountain stream, and boy can she write' - The Crack Magazine
Releasing her debut Shelter EP at 17, Eve juggled her last year of A Levels with opening the Northern leg of The Martha Reeves & The Vandellas tour, and supporting the likes of The Lake Poets, Cattle & Cane and American Young, adding to an extensive list of support slots that already included Beth Nielsen Chapman, UB40 and Nikki Lane. 2018 added to the chart success of Shelter EP; Eve's sophomore release: 'Gloria, I'm Home', reached the no.2 spot on the iTunes Singer/Songwriter chart. Gloria gained Eve frequent airplay on Nick Roberts' BBC Introducing show, advancing on her opening slot at the 2017 Evolution Emerging BBC Introducing stage, a spot which earned Eve airplay on Tom Robinson's BBC 6 show for 'Austerity'. As well as her solo project, Eve writes and gigs throughout the UK as 1/6th of 'Kathryn Tickell and Superfolkus'. Collaborative writing has seen Eve appear on Tickell's 'Water of Tyne' release; and, compose a score on South Shields' shipyard women for Shona Thompson's: 'A Kind of Seeing' film, which received a FOCAL International Film Award for 'Best Footage on Innovative Platforms'.
View Profile