P E A K E S
+ Swiss Portrait + Rhona Mhairi
Buy Tickets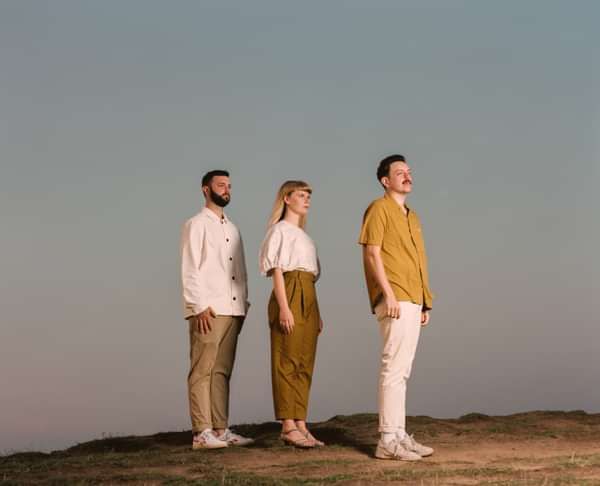 The sound of PEAKES has always been steeped in isolation, crafting hymnal electro-pop that floats, weightless and suspended, over the world they move through. Using the lens of nostalgia as a kind of refuge, their synth-led dreamscapes defy any sense of time and place: their sound is both current, yet transportive like a memory.
Since their formation in 2017, vocalist Molly Puckering, synth-player and producer Max Shirley and drummer Pete Redshaw, have been solidifying what it means to be PEAKES. With a smattering of EPs and singles laying out their statement of intent, each one a run-up growing in momentum, their trajectory was clear: get into the studio and bring the music to the stage. This was the plan for the Leeds-based trio in 2020 – until the world stopped. No one could have predicted that touring and recording, an artist's lifeblood, would grind to a global halt, and PEAKES could never have predicted that in a year defined by impossibilities, they would make their debut album, Peripheral Figures.
"I think last year, when you had everything taken away from you, it made it easier to try something new," says Molly. Having released their four-track EP 'Pre-Invented World' on the cusp of the COVID-19 pandemic, amidst the world's disorder, their music fell into a void: the appetite for new music had understandably dried up, and there was nothing PEAKES could do to change that. So rather than dwell on it, they took a step back and returned to the drawing board and went back to basics, learning to fall in love with music again through the purest sense of creation.
Yet despite the logistical hurdles they had to overcome during the pandemic, where ten minutes might as well have been ten thousand miles away, Peripheral Figures is their most personal, hands-on project yet – and it's entirely their own. Molly recorded her vocals in the wardrobe of her bedroom, while Pete's drums were sent in a file-sharing back and forth over email: a departure from the sessions they'd had with producers in fully-fledged studios. "This is the closest that we wanted everything to sound like," Max says. "Whereas before, it was someone else's vision too, this time, we've had the final say, and it feels great."
The suspended time allowed them to experiment without a timeframe, having the opportunity to dedicate hours to perfecting the details, rather than minutes. What started as a means of escapism developed into an album which not only serves as the definitive realisation of PEAKES' potential, but acts as a capsule for the universal feeling of isolation channelled through boundless imagination.
Another freedom that the pandemic afforded them was to step away from a singles-driven mindset, embracing slow-burning songs that didn't necessarily meet the tick-box requirements of upbeat with the ability to instantly connect with a listener. "Clouds", one of the most interesting tracks on Peripheral Figures, wouldn't exist if they weren't writing in an album state of mind. Sonically stripped back, Molly's entrancing, almost spoken vocals, carry it. "We're quite nostalgic in the sounds we use and the world we want to create," says Max. Inspired by the hazy dreamscapes of shoegaze, PEAKES choose to bring those elements forward, leaning towards synth rather than guitar. "Infinite Divide" merges the retrospective, synth-driven energy of the 80s and brings it to the brink of modernity. Experimenting with distortion, PEAKES welcomed the grittiness that their DIY production created over the far more polished, studio-level sheen they'd been used to. While the two tracks stand in contrast to one another, they are also the band's favourites: "We'd never written two songs with that much energy from the start," says Molly.
"Day and Age" was written with nightclubs in mind, with its propulsive, entirely electric new-wave beat dreaming of crowded spaces. Their lyrics, penned between Max and Molly, usually came from a place of observation: "We didn't realise how much we were influenced by being out in the world until we weren't in it anymore," Molly says. Using limitless imagination as a crutch, they started to explore scenarios in their head, embedded themselves into different stories. "Nameless Machines" was a concept song, built upon Max's lyric: "Nameless machines / Statistical dreams", envisioning someone working the same nine-to-five office job, being consumed by it and trapped within it. "I loved getting into the mindset of that and writing from it," Max says.
PEAKES' music is a catalogue of reference points, from essentials such as Gary Numan, Depeche Mode and New Order to the ambient techno of Haruomi Hosono and the wonky German electro-beats of Grauzone. While Max is indebted to 80s new age, Molly looks to the female-led electronic renaissance of the 00s, with Portishead, Goldfrapp and Moloko being enormously influential for her own approach as the band's frontwoman.
The band met at university while they were studying at the Leeds Conservatoire in 2017 after cramming into an eight-bed house together, discovering that they shared a similar vision. Molly, as well as being PEAKES' vocalist and lyricist, is also the architect behind the "silent stuff", having styled all their outfits with an eye for dreamy, whimsical aesthetics that they bring into their artwork. Max, whose multi-hyphenate role extends to lyrics, production and instrumentation, brings a meticulous eye for detail that means that every track is finished to a sky-high standard, and Pete is PEAKES' grounding force and peacemaker – not to mention their roadman (he's the only one with a driver's license).
With the release of Peripheral Figures, PEAKES feel one step closer to their vision than ever: their debut album was hard-won, and yet stands brightly as an example that out of trauma, there is a possibility to build something beautiful.
Line Up
P E A K E S
Swiss Portrait is a project by Edinburgh based Artist Michael Kay Terence. With a DIY approach Michael records and produces all his music in his tiny spare room outside of Edinburgh.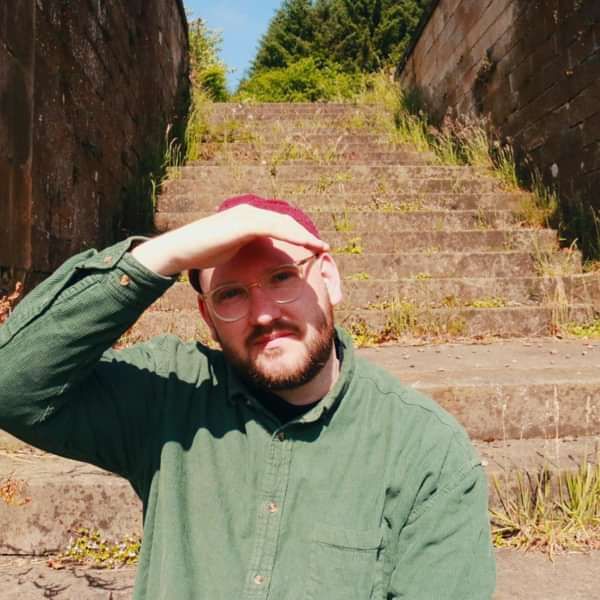 Rhona Mhairi