Kevin P. Gilday & The Glasgow Cross: The Sickest Man in Scotland
Buy Tickets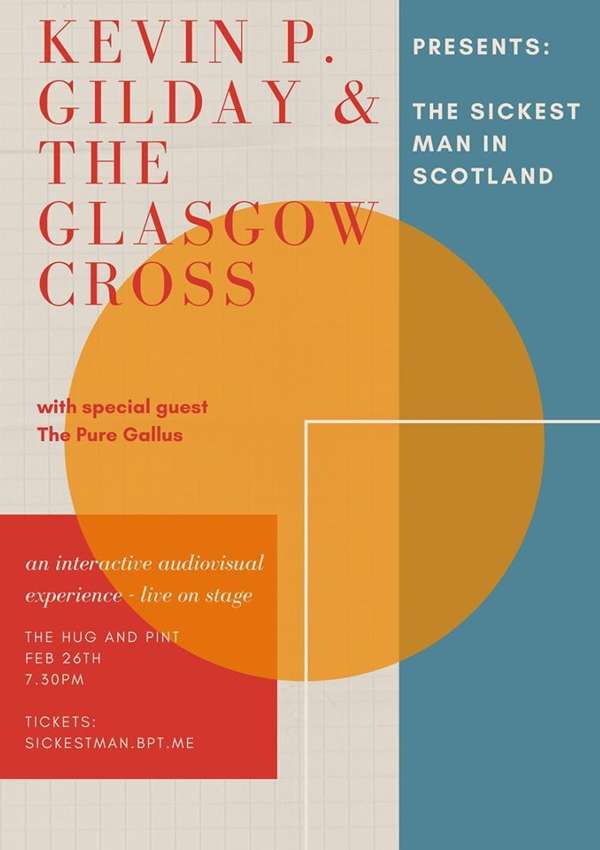 Kevin P. Gilday & The Glasgow Cross return with The Sickest Man in Scotland, a live audiovisual experience showcasing songs from their upcoming second album.
These tracks mark an evolution in the sound of the project, who started as a one-off studio collaboration and have matured into a fully realised live act. The Sickest Man in Scotland is an interactive audiovisual performance, a stage show using interweaving narratives and themes to create a new context for the music and words.
Award winning writer and spoken word artist Kevin P. Gilday fronts the group, complimenting his established poetic delivery with powerful sung vocals, while Ralph Hector (Iffy Folk Records) creates his most impressive compositions to date - bringing together abstract electronica, expansive guitar and rich textures to create a unique sonic architecture.
Support comes from mythical pop-father The Pure Gallus.
Line Up
Kevin P. Gilday & The Glasgow Cross: The Sickest Man in Scotland