Jocelyn Pettit & Ellen Gira w/ Ali Hutton
+ Andrew Waite (solo)
Buy Tickets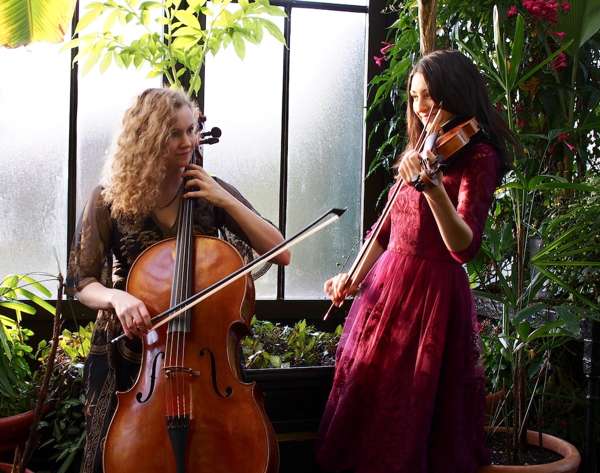 From the West Coast of Canada, Jocelyn Pettit is an award-winning fiddle player, stepdancer, and singer. With grace and passion, she has performed across Canada, and toured in the USA, the UK, and Europe. She has been featured on Canadian national television and radio, and shared the stage with The Battlefield Band (Scotland), The Chieftains (Ireland), and Carlos Núñez (Spain). Jocelyn has released two albums, both nominated for multiple awards, including "World Artist of the Year" at the 2017 Western Canadian Music Awards, and at the 2016 Canadian Folk Music Awards. She is pursuing a Master of Music degree (Scottish Music), at the Royal Conservatoire of Scotland.
From the East Coast of the USA, Ellen Gira is a seasoned cellist who has performed throughout the USA and the UK. Highlights include: The John F. Kennedy Center for the Performing Arts in Washington, DC, and Cadogan Hall in London, England. She has performed and recorded with Scots singer Iona Fyfe, Irish fiddler Manus McGuire, and US National Scottish Fiddle Champion Seán Heely, among other acclaimed traditional musicians. She earned her Bachelor's degree in Cello Performance from the Cleveland Institute of Music, Master of Music degree (Scottish Music) from the Royal Conservatoire of Scotland, and is now pursuing a PhD at the Royal Conservatoire of Scotland.
Currently based in Glasgow, Jocelyn and Ellen are excited to fuse their influences to create a dynamic and textured sound. Together they present a lively and soulful performance of Scottish, Irish, North American, and Nordic music, with Canadian stepdancing. They have performed together at prominent festivals and events in the UK, including: for HRH The Prince of Wales, Prince Charles; at Celtic Connections Festival, Northern Streams Festival, Niel Gow Festival, Edinburgh Castle, Blair Castle, and a live broadcast on BBC Radio.
Jocelyn and Ellen will be joined by award-winning, multi-instrumentalist, Ali Hutton, on guitar. From Perthshire, Scotland, Ali has performed and worked alongside some of the most respected musicians and bands on the Scottish music scene. He has produced and co-produced several albums, including Treacherous Orchestra's "Origins", Maeve Mackinnon's "Don't Sing Love Songs", and Old Blind Dogs' "Wherever Yet May Be". Ali is currently a member of Treacherous Orchestra, Old Blind Dogs, Ross Ainslie & Ali Hutton, and From The Ground.
---
Andrew Waite is an accordion player and composer from the Scottish Borders. He plays in bands such as TYDE, DALLAHAN, FOURTH MOON and ELIZA CARTHY WAYWARD BAND. His music is rooted in Scottish, Irish and English Trad music but he takes influences from many genres such as Jazz, Gypsy Jazz, Bluegrass, Funk and Classical music. Andew cofounded the band Tyde in 2008 and got to the finals of the BBC2 Young Folk Awards. Following that he secured a record deal when he was 15 years old and recorded two studio albums, performed at the royal Albert hall at the bbc proms and played the English festival circuit multiple times by the time he left high school. In 2011 Andrew was a finalist in the 'BBC Young Traditional Musician of the Year' and was an 'Up and Coming Act of the Year' Nominee at Na Trads 2015. In 2015 he joined the band Dallahan who were a 'Folk Band of the Year' nominee at Na Trads 2016 and released the album 'Matter of Time' which was also nominated for Album of the Year at Na Trads 2016. Andrew Joined Eliza Carthy and the Wayward band (Songlines BEST BAND IN EUROPE award) in 2013 and has been regularly touring with them since then. In February 2017 they released their debut album 'BIG MACHINE' and it reached number 25 in the UK Album Charts. As well as playing with different bands Andrew has also appeared on stage with Sting, The Unusual Suspects, the RSNO and performed as a guest on over 15 albums. When he was 13 years old he performed at the Royal Albert Hall at the first ever BBC Folk Proms. Andrew is currently touring Dallahan, Eliza Carthy and the Wayward band, Fourth Moon, Lucy Farrel, Grainne Brady, Claire Hastings band and as a soloist.
Line Up
Jocelyn Pettit & Ellen Gira w/ Ali Hutton
Andrew Waite (solo)