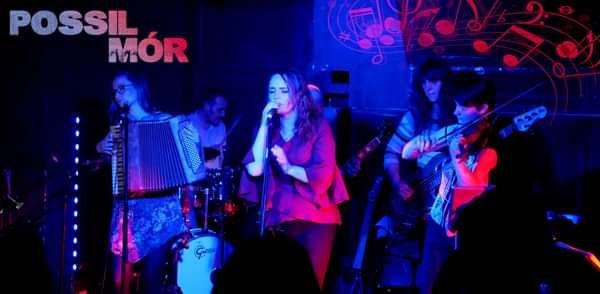 General Admission (e-ticket)
Possil Mor are an up and coming Scottish Americana Band from Glasgow. The songs echo Irish, Scottish and American influences, all the while being driven by the inner energy of Glasgow. The main members of Possil Mor are co-writers Edith Casey on vocals and Bill Alexander on guitars, who both believe that the craft for making music must have soul and emotion at the very heart of everything.
Influenced by the likes of Hank Williams, Emmylou Harris, Free, Allman Brothers, Rolling Stones, The Beatles, Abba, Bob Dylan, Joni Mitchell. Queen, Genesis, Django Reinhardt, Earth, Wind and Fire, Marvin Gaye, Aretha Franklin, creates an interesting, and eclectic blend, resulting in no two songs being the same in the music that they create. Add in a love of gospel and classical music to the mix and you just know that it is going to be something different. Supported by their regular touring band, comprising of some of the best musicians in Scotland, you can be sure that when they play live, of a concert experience that will leave you wanting to hear more.