Night School presents:
Night School: J. McFarlane's Reality Guest
+ Otherworld + Tarantula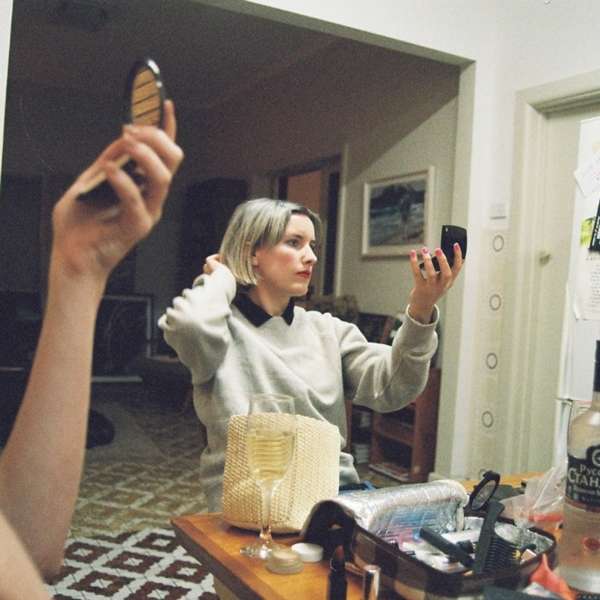 J. McFarlane's Reality Guest, featuring the songs of Julia McFarlane (ex-Twerps) brings her psychedelic chamber minimalist marble giants pop songs to Europe for the first time.
"Ta Da" is the debut full length from J. McFarlane's Reality Guest - aka the solo music of Australian artist Julia McFarlane. As a member of the group Twerps, McFarlane has traversed guitar-centric, melodic pop music for some years while honing a highly unique, personal musical language. Ta Da is the first recorded unveiling of McFarlane's affecting, oblique songwriting panache. Originally released in her native Australia on Hobbies Galore, Ta Da will be released worldwide by Night School in June 2019. Wheezing into view with a troubled reed instrument set against a s of whoozy synth lines, Human Tissue Act is a foggy curtain the listener is invited to peel back. The dissonant notes are left to dance entwined, with clarinet heralding a Harry Partch-esque mallet percussion interlude. It's a mood. With no resolution in sight, an audience dragged closer into uncertainty is suddenly drenched with the light of inter-weaving wah wah synth and saxophone. I Am A Toy introduces us to McFarlane's vocal, an effortless and matter-of-fact, accented statement that quietly takes the reins. While McFarlane's previous work in Twerps might reference 80s UK and antipodean guitar pop, Ta Da showcases a different influences immersed in psychedelic music and synths. It's a brilliant, deft concoction swimming in Young Marble Giants-type minimalism washed with bare pop and harmony similar to Kevin Ayers making sense of a Melbourne suburb full of faces half-recognised in the blanching sun. What Has He Bought begins with a Casio-keyboard rhythm pattern, palm-muted guitars and immaculately enunciated vocal give way to a burnt melodica part that elevates the spirits. Simple patterns repeated, like a well-tempered pop song that does what it needs to do and no more, build into the sound of summer leaking orange juice. They're moments of joy, layered on top of each other like a melting cake. Do You Like What I'm Sayin' recalls Marine Girls covering a classic '66 Garage nugget, organ lines fighting funk with guitar chords played just behind the percussion. "In a talking world, meanings are the same. Words want to hold on to the people they contain. Do you like what I'm sayin'?" We're in a Beckett play perhaps, obtuse absurdities rendered pretty. Alien Ceremony is a heart-melter, given a melancholic timbre by bowed double bass it's a tragi-comic piece that almost reeks of Robert Wyatt at his mid-whimsical twisting a fugue completely out of shape. Beneath the layers of harmony and twinkling instrumentation you sense there's a genuine sadness somewhere even if it remains veiled. Through out Ta Da, McFarlane plays with counterpoint and contrast to sometimes delirious effect. On Your Torturer, a simple, upbeat chord progression is hard panned, underpinning a flute solo which seems out of place, hence making it completely in place on this warmly surreal album. My Enemy is a slowly swinging eulogy to a failed relationship punctuated by analogue synth burbles, with our protagonist simply asking, in the aftermath, "can we be nice?" Here McFarlane's vocal is straight forward, lyrically conversational but still not completely in focus, a surreal kitchen sink drama filtered through a dream where everything is in the wrong place. It's a fine precursor to Heartburn, which similarly borrows BBC Radiophonic Workshop-style noise synths and the use of space to carve up the simple "You Will Make My Heart Burn" line. At this point, the listener has been in such close proximity to McFarlane's show, the reality guest in a performance where they're the sole audience member, that when Where Are You My Love rises on the horizon as a sleepy, psychedelic send off it's uplifting. The vocal drifts away into the sunset, simple and direct. It leaves the listener slightly confused, perhaps, but grateful for the gentle surprise. credits
Line Up
Night School: J. McFarlane's Reality Guest
Otherworld
WILD | CAPTIVING | UPLIFTING
Our mission is to make you dance and sing with no rest.
Wild rhythms, uplifting melodies, and captivating circus performances will capture you in an intriguing, fascinating and wonderful dimension.
BIO
Hailing straight from the boot of Italy, Tarantula is a Mediterranean Gypsy-Folk band that brings "Taranta", the traditional music of Salento to the British music scene.
5 energetic musicians who come from different corners of the world including Italy and Switzerland who share their diverse musical influences with captivating circus performances exclusive for their upcoming album entitled "Rogue Rouge Circus", containing 9 singles that will be released one by one monthly from next winter 2018.
Each song is an episode of an intriguing and provocative story about all the mysteries, relationships and adventures behind the circus curtains, which you can watch and follow in the next live shows starting from April 2017.
You'll hear authentic tambourine rhythms grooving with enchanting whistles and violins, reminiscent of the circus, the sea, the tradition, the legend and the mysticism belonging to "brown skin people" of the Mediterranean lands. Tarantula will be touring in England, Italy, and Spain for the entire 2017/2018. You'll enjoy a perfect communion of wild gipsy music with breathtaking circus performances.
Tarantula bites her victims and steals their souls, making them dance without rest in a unique live show. ​
"The circus is Life, the Circus is you"
View Profile