Swearwolves
+ Red Hearted Vibrations + Lloyd James Fay
Buy Tickets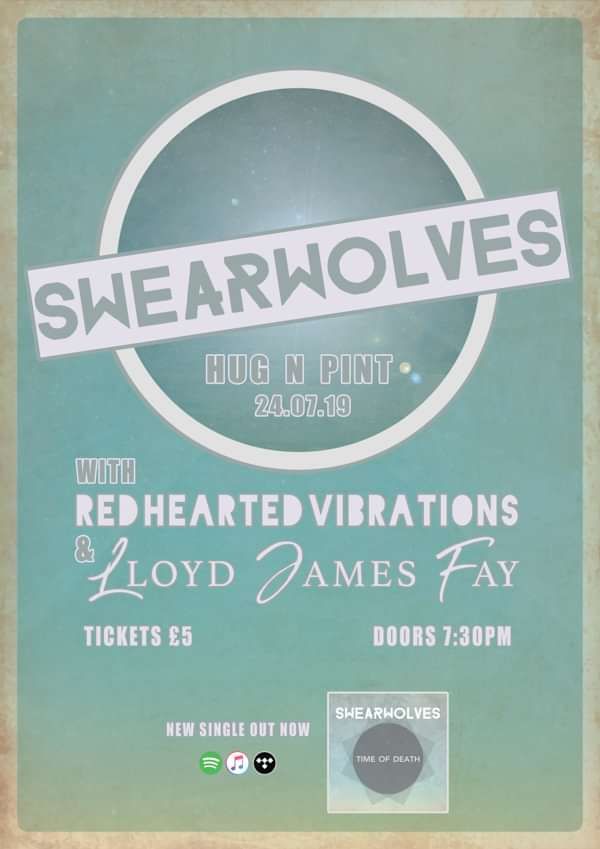 Swearwolves are a Scottish Indie 3-piece based in Glasgow. As big fans of local music, the band began blending together their Scottish and Irish background in 2018 with debut performances at Mugstock and Butefest festivals.
Line Up
Swearwolves
Red Hearted Vibrations
I am a Glaswegian singer-songwriter, influenced by the likes of Neil Young, James Taylor, Malcolm Middleton, Laura Viers and Mark Kozelek, who has featured on BBC Radio 4, Channel 4's Hollyoaks and at the Celtic Connections,Spree, Live@Troon and MugStock festivals.
As the main songwriter in Thula Borah my music has also reached the final of The Billy Kelly Songwriting Competition, been played on Radio 1, Radio Scotland, been featured on Stereogum, and played at many festivals including Indie Week Europe 2016.
I am currently working on material for my 2nd solo release (following 'Black River Chronicles' released in 2013 by Platform Records) and am excited to share some of this material, which is my attempt to tackle and reflect the strange and uncertain times we are living in: https://soundcloud.com/lloydjamesfay/sets/lloyd-james-fay-demos-2017
I am looking for festivals and gigs to play in 2019 in promotion of my new material and would love to hear from anyone who can have at their venue or festival.
You can find more info about me and my music, including images, via my PR folder here
You can listen to my live performance at Celtic Connections here
If you are in Glasgow please keep an eye on my social media for details of open mic nights and sessions I regularly play and I certainly can and will travel to showcase my music.
JamSphere "...hypnotically engaging...forthright, sophisticated, somewhat rustic and yet essentially urban in outlook...a complete work of astonishing depth, somewhat melancholy but never depressing."
Unpeeled "...it decays and blackens beautifully and melds n welds so you end up loving it."
View Profile