Ye Vagabonds
+ Burd Ellen + Tom Stearn (Kettle of Kites)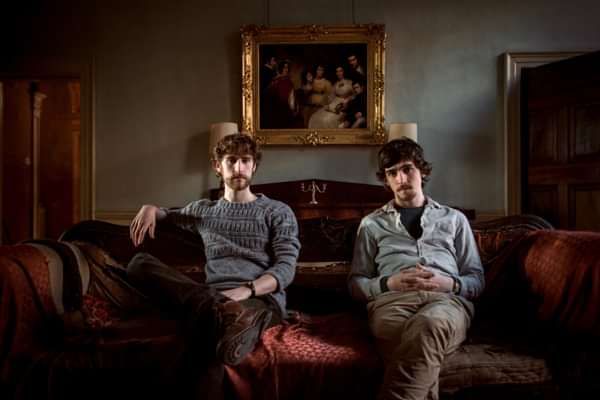 Brothers Brían and Diarmuid Mac Gloinn grew up playing music together around their hometown of Carlow, a small town in the southeast of Ireland. After moving to Dublin in 2012, they quickly became a staple of the live music and session scene in Ireland, playing their own original songs as well as folk songs from Ireland, Scotland, England and America.
In 2014 they came to the attention of Arbutus Yarns' music filmmaker Myles O'Reilly, whose videos gained international attention for the brothers for the first time.
After a chance meeting at Electric Picnic in September 2015, the brothers performed onstage with Glen Hansard, who invited them to open for him on his European tour the following October.
Their debut EP Rose & Briar was released on October 7th 2015.
Since then, they have been busy touring Ireland, the UK and Europe, opening for acts such as Villagers, Roy Harper and Lisa Hannigan (whose band they played in for her Irish tour, June 2016). They have also played sold out headline shows in Ireland, Paris, Geneva, and Solothurn, Switzerland.
They have made numerous television and live radio appearances in Ireland, and were featured in Ep. II of Myles O'Reilly and Donal Dineen's music programme This Ain't No Disco in March 2017. They were also part of 'Imagining Home', a live broadcast concert in the National Concert Hall of Ireland, 2016, curated by Glen Hansard, Philip King and Gary Sheehan.
Buoyed by the success of their EP, Ye Vagabonds are set to release their highly anticipated debut album, on Friday 13th October 2017, on their own label: Inglenook Records.
Expect harmony rich folk music, influenced by Irish traditional music, Appalachian singing, and the 1960's folk revival. Ye Vagabonds' album is comprised of ten mellow tracks weaved with thoughtful lyrics, thickly layered with strings and droning harmonium.
The first single from the album "Song Long Forgotten", with an accompanying video from filmmaker Myles O'Reilly and artist Conor Campbell, is out now.
Line Up
Ye Vagabonds
Burd Ellen
Tom Stearn (Kettle of Kites)