Scottish Fiction: Mt. Doubt
+ Junior Brother + Paddy Hanna
Buy Tickets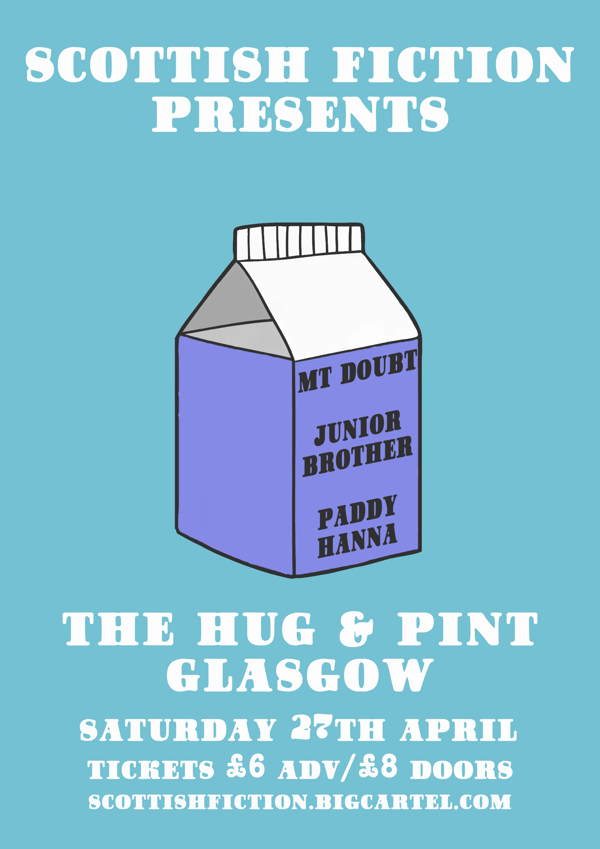 Mt. Doubt return to the legendary Hug & Pint for their first Glasgow headline of 2019, bringing with them a chance to hear brand new material ahead of their 3rd album - coming later in the year.
Scottish Fiction are delighted to partner up with Strange Brew and bring over from Ireland two fantastic acts as support for this gig.
Hailed as one of one the most promising young songwriters in Ireland by Stereogum and playing tracks from 2018's acclaimed album 'Frankly, I Mutate', we are delighted to have Paddy Hanna playing on the bill.
And rounding things off with his unique and striking voice is Junior Brother; bringing his idiosyncratic and richly lyrical songwriting to Glasgow for the first time.
PLEASE NOTE - NO PHYSICAL TICKETS WILL BE POSTED. NAMES WILL BE ON A DOOR LIST. PLEASE BE ABLE TO PROVIDE CONFIRMATION OF BOOKING.
Line Up
Scottish Fiction: Mt. Doubt
"Carries that inimitable Kerry trait and proud tradition of being a bona-fide storyteller....perhaps the strongest traits in his music and persona are a lack of cowardice mixed with talent" Remy's Music and Film Blog "His songs are full of emotion, and also lots and lots of humour...could only be written in Ireland" John Barker, Totally Irish 98fm Junior Brother is an alternative folk singer/ songwriter from Kilcummin, Co. Kerry, playing slightly unhinged, sometimes heady, folk songs of his own creation. In his music he is heavily influenced by his upbringing in rural Ireland, attempting to recreate the archaic, weird and beautiful nature which surrounds his family home and littered his childhood. Currently based in Dublin, Junior Brother's played the annual Whelan's Ones to Watch festival the last two years and has played support for acts such as the Hot House Flowers, The Spook of the Thirteenth Lock, and R.S.A.G. Influences include Planxty, Richard Dawson, Pentangle, Richie Kavanagh, the harp playing of Derek Bell and Alan Stivell, and the vocals of Dessie O'Halloran and Joanna Newsom.
View Profile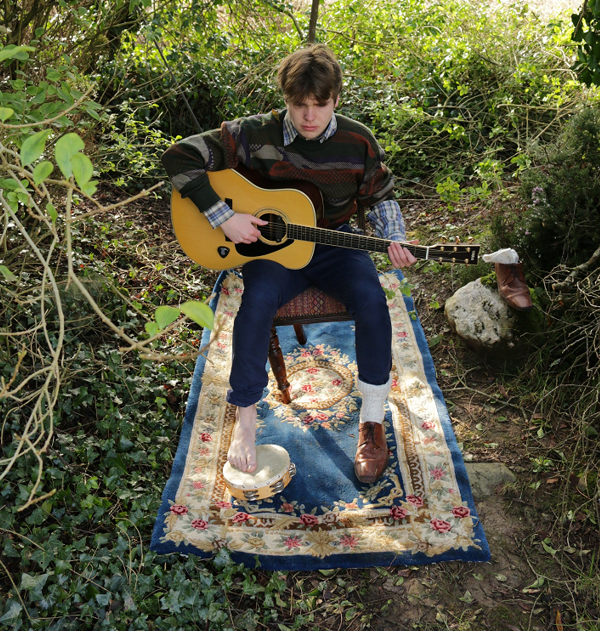 Since the release of his debut solo album Leafy Stiletto in 2014, Paddy Hanna has amassed a cult following at home and abroad as a purveyor of oddball melancholic pop music. Formally of Grand Pocket Orchestra and No Monster Club, Hanna's debut steered away from his anarchic roots and veered more towards the classic songwriting of the 1970s. through his own veil of disillusionment and sorrow, Stiletto was met with high praise, leading Irish Times reviewer Lauren Murphy to proclaim it "an inspiring debut"
Word of mouth would eventually garner the attention of Conor Cusack, owner of Trout Records, who, in 2015 released a run of singles with Hanna, including Austria, Underprotected and Camaraderie. The tracks cemented his reputation, with Ian Lamont of Totally Dublin calling him "one of Irelands finest songwriters", They would also break through to the U.K, where he was praised by Q, NME, Clash to name but a few.
2017 will see the release of Hanna's sophomore album, produced by His new collaborator Daniel Fox. Following on from the Scott Walker Esc pomp of Austria and Underprotected, Fox has added a whole new orchestral element to his music, along with contributions from members of Girl Band, Saint Sister, Tandem Felix, Cian Nugent and the Cosmos and the Trinity Orchestra.
View Profile