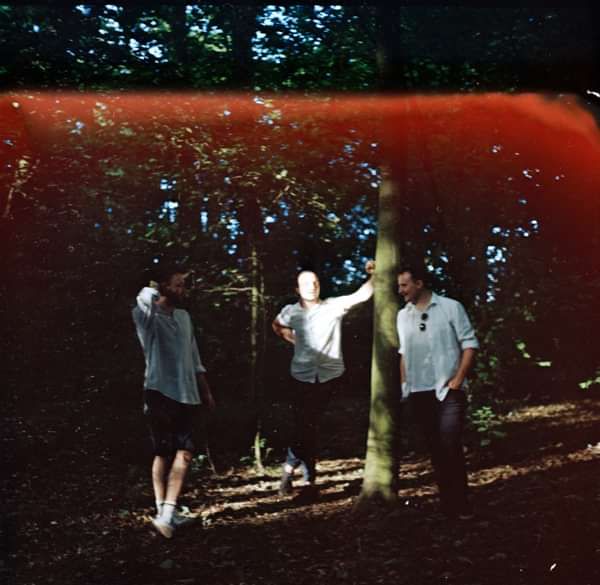 Stillhound have been friends since childhood. Attending the same school together, the Edinburgh three-piece grew up dreaming about making music, huddling together to swap ideas, write songs, and conjure dreams.
Debut album 'Bury Everything' was a remarkable creative feat, the sound of their musical lives distilled down to an essence. Largely rooted in their Lost Oscillation studio – located in Edinburgh's creative hub Leith – it was the start of something, but also a finishing point. What comes next is their new album – it's daring, it's ambitious, and it's self-titled, offering a new definition of Stillhound.
"The first album, it really represented everything we'd written up until that point," explains Fergus Cook. "Everything we've written since then is very different because it's much more in keeping with our tastes now. How we write and what we listen to. We're trying to make a statement – that first record was a time capsule, and the new record is now."
Deciding that they needed a fresh environment, Stillhound literally loaded up their van with equipment and set off into the Scottish Highlands, turning small cottages into makeshift studios in picturesque but intimate landscapes such as Gairloch, Ardnamurchan, and Ullapool.
"We get more and more extreme with how much equipment we take up there," laughs Dave Lloyd. "The last couple times were just ridiculous. The van was literally packed to the very brim. Our lives consisted of writing, drinking, and eating for a week or two."
Spending their days hiking across formidable landscapes, Stillhound would return and make the best music of their lives. The environment seeped into their music, too – long days swimming in the sea, long nights surrounded by barren wilderness. "We've worked through some tough times, in terms of going away, writing, and not being sure of what we were expecting," Dave adds. "But it's been really nice to get away. It was bliss – incredible weather, really beautiful surroundings, we could go swimming at the beach."
Working completely independently, Stillhound took charge of every facet of their sound, and it allowed the band to become more free-form, more fluid, but also more direct and dynamic. "We feel that the best way of doing it is how we're doing it just now," says Laurie Corlett-Donald. "I would say we've all been pretty damn close for a long time now, but we've learned about each other in a capacity that you only learn about when you write with someone. It's really, really hard to describe in another way."
The results are startling. 'Stillhound' builds on the innate promise of their debut while introducing potent new directions for the band, ranging from Nine Inch Nails style darkness to the daring pop of Depeche Mode, or even the startling songwriting of Grizzly Bear. It's a fusion of the digital and the analogue, the blend of technological prowess with engrossing songwriting.
"The way we write involves production," notes Fergus Cook. "We're half-way between a band and a bunch of producers sitting at a desk making beats. Sometimes the two come hand in hand. Sometimes the basis of a track can come from a production trick."
Relentless in their approach, Stillhound have produced their most ambitious work yet: 'Glass Lake' took 30 vocal takes to complete, while 'Zara' is written in 5/4 time signature; 'On A' started life as a seven minute epic, before being reduced to a cryptic 90 seconds. Billed as "home-brewed" it's a unique potion, and it all comes back to that staunch independence, to those long nights in the Highlands.
"With this one we were all totally agreed on how we wanted it to sound," states Dave Lloyd. "It was completely obvious to all of us that – money aside – the best thing to do was to do it ourselves."