two thirds of me
+ Flew the Arrow + Conor Heafey
Buy Tickets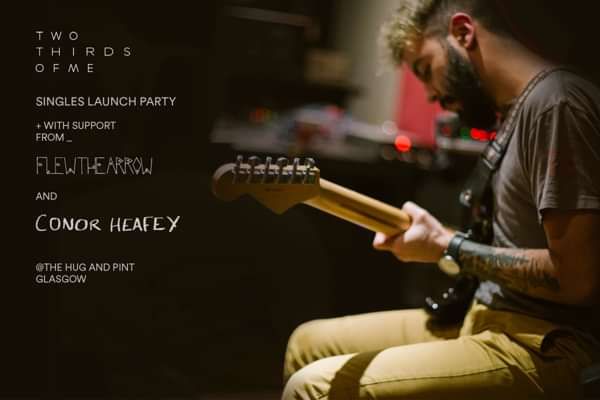 Two Thirds of Me is a singer-songwriter and producer from Italy who's made Glasgow his new home. The driver behind all his music is the constant search for that metaphorical "missing third", and that is reflected in his continuing experimentation with different genres and production styles. July 2018 saw the release of the debut EP of this new project, "Love on Mars - EP", and later on the same year he featured on Ado Mass' dance track "Never Catch Me". Two Thirds of Me has been experimenting with new genres recently, and March 2019 saw the release of two new singles "In and out of love" and "I think I had enough".
'FlewTheArrow is a fast-rising contemporary folk artist from the small town of Ayr on the West Coast of Scotland. Since residing in Glasgow the last while and building his skills and reputation as a songwriter and acoustic guitarist, he is now part of the team at 23rd Precinct Music Publishing and has also signed to Electric Honey records, now working towards releasing new material over the coming months before a full EP release this spring time.
"Melding fleeting finger-style melodies with percussive beats through an array of pleasant open tunings, accompanied by his poetic lyrics and powerful voice, that collate to form a warm sense of original acoustic songwriting that is yet to be discovered."'
"Flew The Arrow fills the room with warm timbres of his acoustic guitar, and a soft voice that's bristles just lightly with an Ayrshire twang, crafting earnest narratives of love and loss from romantic landscapes, who's imagery weaves through each song like a subtle and haunting poem. His presence cuts a friendly, laid back intimacy, introducing each of his songs with genuine enthusiasm." - Rave Child
Usually in the solitary confinement of a converted tenement bedroom studio Conor Heafey creates an eclectic yet coherent fresh brand of music with a D.I.Y aesthetic and a penchant for catchy hooks and lovable melodies.
Originally from the Black Isle in the highlands of Scotland Conor recently moved down to Glasgow where he continues to focus on making music and where he more recently assembled his live backing band: 'The Lovely Boys'. Conor's sound has already seen him play at some of the greatest venues in Scotland and support well known locals and touring acts. In 2018 Conor's Sophomore EP 'Just One Step Behind' was released in April accompanied by a string of dates across Scotland's major cities. Since then Conor has released two new singles; 'My Green Love' in September 2018 and 'Terry' at the start of March 2019. Currently Conor is working on new material to be released over the course of 2019.
Line Up
two thirds of me
Flew the Arrow
DIY multi instrumentalist singer-songwriter Conor Heafey writes a bashful brand of rainy day easy listening indie tunes about whatever's on the mind. Currently based in Glasgow but originally from the Black Isle in the Scottish Highlands Conor pursued music from a young age and in his late teens relocated to Perth to study music. Now in those early twenties Conor has been writing and playing with bands but has only recently embarked on an overdue venture into a solo project.
View Profile