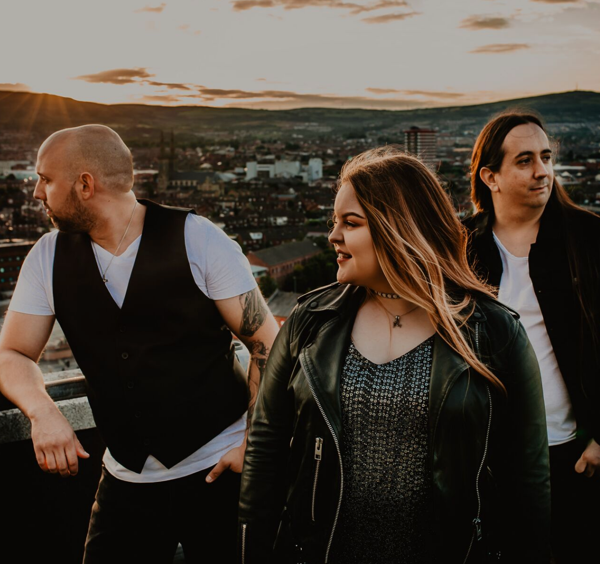 The Rising The Rising can best be described as blending fresh-faced Pop/Rock with Modern Country Stylings fresh from Nashville. The band have just released their 2nd album "Moving On" to great critical acclaim including positive reviews and features with the likes of Guitarist Magazine, Country Music Magazine, Hotpress Magazine, No Depression, The Arts Desk, Yorkshire Times and many more.
The album was recorded between the band's native Belfast and Nashville (TN) and features musicians such as Chris Brush and Tommy Detamore on Pedal Steel Guitar.
Previously, the band have performed at Country 2 Country Festival at London's O2 (Twice). Toured the UK and Ireland extensively on their own headline tours and have also opened for Ward Thomas, The Shires and Jess & The Bandits.
First single from the album "Rebound" achieved success when it was given a world premiere by US based Country Music Bible 'The Boot'. The band's music has also enjoyed heavy radio play and play listing globally, including USA, UK, Europe, Ireland and beyond. Including good support on UK National radio including extensive radio play on the likes of BBC Radio 2, BBC London etc including support from the likes of Graham Norton, Gaby Roslin and Alex Lester. BBC Introducing also named it song of the week on the week of is release.
"Moving On is Country Pop/Rock with Chantelle McAteer's vocals supported by Logan's jangly rhythm and strong lead guitar. Hook-laden songs with singalong choruses" - 8/10 - Guitarist Magazine
"Amazing" - Gaby Roslin (BBC Radio London)
"A glorious amalgamation of Rock, Country and Folk" - Jim Gellatly (XFM/Amazing Radio)
When it comes to country-tinged pop-rock songs, there are very few who do it with as much style as Belfast's The Rising right now. The kind of song which could dent the charts and hearts of the states given the right breaks, fans of the likes of Lady Antebellum and early Taylor Swift will lap this up" - Edwin McFee, Hotpress Magazine
"If your after big songs with big choruses then you could do little better" - R2 Magazine
"Choruses and tunes which aim for anthem status.. The Rising are definitely a band to watch." - Golden Plec
Links to the band are: Website: www.therisingmusic.com Twitter: @therisingmusic Facebook: @therisingofficial
Line Up
Band Members Chris Logan: Guitars, Banjo, Mandolin Tristan Harris: Lead Vocals, Harmonica Chantelle McAteer: Vocals Peter Flanagan: Piano, Keys/synths Shane Watters: Drums
The Rising are a Country Rock, Americana band from Belfast, Northern Ireland.
Their debut album 'Coming Home' is available worldwide on Renegade Maverick Records/Absolute. Since the release of the album the band have gained support from BBC Radio, Radio 2 with the likes of Graham Norton, Gaby Roslin and Alex Lester championing the band from their first single.
2015 was been a busy and successful year for the band. The band's music has gained extensive airplay throughout Ireland, UK, Europe (Germany, Netherlands) and the USA/Canada. Their music video hit Number 1 in the CM&T International Artists Music Video Chart (USA & Sky TV). The band are also performed Country 2 Country festival in London's O2, the only Irish act to play the festival. iTunes also featured the band on their front page banner for several months as well as featuring both the single and album in "New & Featured" section. Towards the end of the year the band were nominated for the Horizon Award in the 2015 British Country Music Awards and also toured the UK and Ireland extensively with Jess and The Bandits. This tour included several legendary venues that were ticket off the band's 'bucket list' for the first time including Glasgow's 'King Tuts' and London's 'Borderline'.
The band recorded their debut album 'Coming Home' in both Northern Ireland and Nashville, where they worked with Grammy winning engineers/producers including Hank Williams. During this time several guest artists came into the fold and added their talents to the album. For example; Molly Thomas (Molly Thomas & The Rare Birds, Matthew Ryan Band), Ricky Warwick (Black Star Riders, Thin Lizzy, Solo artist). Embracing their strong DIY ethic the Northern Ireland based sessions were completed at the bands own recording studio.
Just as their native Belfast reinvented itself after more than three decades of being a bad news story, so The Rising have emerged from the ashes of another band, EXIT. Then a four-piece, they released a brace of well-received EPs and were championed by Kerrang magazine, who applauded their "enormous, stadium-seeking choruses" and a sound "as outsized as a monster truck at Kwik-Fit". Classic Rock went further, exclaiming: "You can imagine watching this band on stage in a 20,000-seater arena with the crowd singing along to every word." A hard working live unit, EXIT also represented Ireland in the UK finals of (then) US label Bodog Music's search for the world's best unsigned group, eventually finishing eighth. This was televised in US. The quartet paid their dues on the live circuit, supporting the likes of Starsailor, Twin Atlantic etc. However, the band knew something wasn't right. The music they were making was nothing to do with their influences or indeed the music they wanted to make. They soon realized they were trying to fit in with the rock scene that was massive in Ireland at the time. The band wanted to make music that was less rowdy and more refined, to replace the overt rock mannerisms with subtle pop stylings, a more roots-based direction. The Rising were born. This new direction has been hailed by the media across all genres from pop, rock press and also country music quarters with reviews and features coming in from across the globe.
While the band were recording their debut album, they also hit the road playing select dates across the UK and Ireland including supporting The Shires/Ward Thomas on the Irish Leg of their Homegrown Tour in Nov 2014.
Into 2016 the band are looking forward to a busy year, which will be filled with new music, lots of touring and they hope to introduce new audiences to their music. Currently the band are locked up in the studio working on the follow up to their debut album "Coming Home". As a taster of this new material the band will release an EP in the Spring.
The band are also extremely excited to announce that they will return to Country 2 Country Festival at London's O2 on March 11th & 12th . These shows will showcase the bands new material.
PRESS QUOTES "A glorious amalgamation of Rock, Country and Folk" - Jim Gellatly (XFM/Amazing Radio)
"If your after big songs with big choruses then you could do little better" - R2 Magazine
"Choruses and tunes which aim for anthem status.. The Rising are definitely a band to watch." - Golden Plec
"Anthemic choruses and a sound that fans of Keith Urban and Lady Antebellum will love" - Hotpress Magazine
"This impressive song from The Rising is sure to make a lasting impression on its listener. With a contemporary vibe, bubbling banjo undercurrents and guitar-driven arrangement reminiscent of one of Keith Urban's many hits, this one is sure to do well." - Maverick Magazine
LIVE PRESS REVIEWS
Having gained a loyal following thanks to their sporadic performances over the last year, London based fans are elated to witness their consummate set… their sound is a striking rock country fusion that will no doubt follow Jess and the Bandits on to the Radio 2 playlist. - The Gaze Magazine
The Rising waste no time in setting out their stall, performing an excellent set of upbeat country rock. Driven and largely guitar based, they perform tracks from their debut album Coming Home as well as a couple of strong covers. City By The Sea and Highway To The Lost And Found demonstrate their upbeat rock'n'roll style with Chris Logan's guitar work especially impressive, whilst they slow things down for the emotive Break The Chains, during which vocalist Tristan Harris ekes out all the emotion possible. They also excel with two covers, firstly Johnny Cash's Folsom Prison Blues before throwing a slight curveball with a much slowed down, but stunning, cover of The Killers' Mr Brightside, during which there is barely any percussion – it works a charm. At the end of the set, completed with Still Coming Home To You, they leave the stage having impressed the eager crowd. - Live Manchester
I've wanted to catch The Rising for some time so it was great seeing them on a London Stage. Their intense country Rock coupled with Imagery of their lyrics is very appealing and their rare appearance in the capital drew an appreciative crowd. - Nashville Over Here
View Profile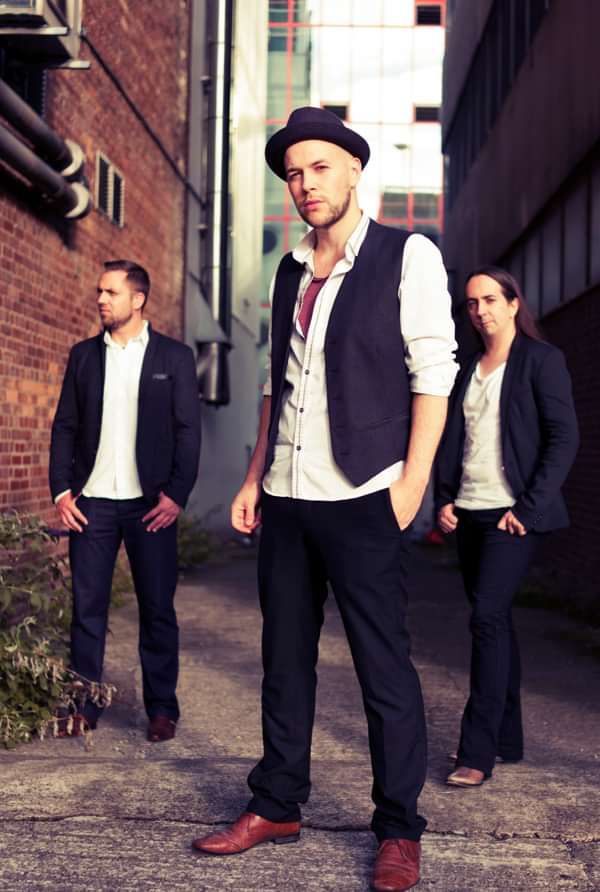 Louise Connell
Glasgow based singer/songwriter John Rush with his 'folk tinged pop songs' has played some of Glasgows greatest venues such as 'King Tuts Wha Wha Hut', 'O2 Academy', 'Barrowlands' & most recently 'The Royal Concert Hall'
Through the years he has racked up some highly acclaimed support slots with names like 'Ocean Colour Scene', 'Mark Morris (Bluetones), 'Chris Helme (Seahorses) and even Paul Weller favourite, Irish singer songwriter 'Declen O'Rourke' to name but a few.
Mr Rush shall took a selection of songs "The Anna E.P" across the pond to New York City, late September 2014 where he showcased the new E.P in a quick mini tour consisting of 4 gigs in 5 nights across the city, concluding in the prestigious New York Music Venue 'The Rockwood Music Hall' late that September.
John straight back in, Glasgow, October 31st where he supported childhood hero and now friend and collaborator Mr Chris Helme at The Admiral Bar, Waterloo Street once again. 
Rush not restimg on this was back on stv Glasgow with a rockus set showcasing his new e.p "The Shindig E.P" OUT NOW!!! 
John now has set the bar a little higher with his "Piccolo Tour" consisting of Liverpool, London, Glasgow, New York and finishing off early June in Norway
http://facebook.com/johnrushmusic http://twitter.com/johnrush100
View Profile