Celtic Connections: The Sweetheart Revue
The Sweetheart Revue + Headclouds
Buy Tickets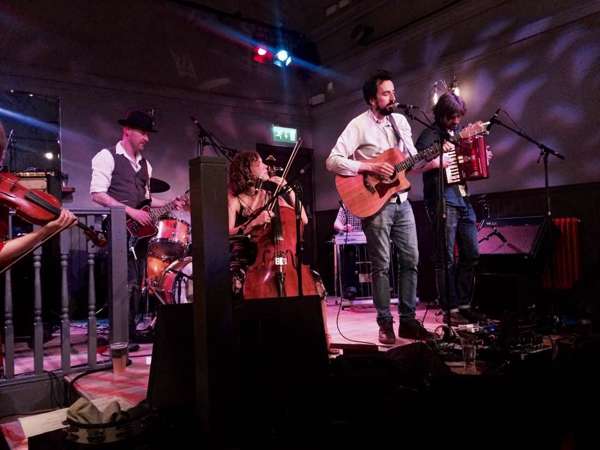 The Hug & Pint, Celtic Connections and Instinctive Raccoon presents: The Sweetheart Revue with support from Headclouds
The Sweetheart Revue have been making music in their hometown of Glasgow since their first gig in the middle of a field of bison ten years ago. They don't do anything in a hurry and the result is a beautiful and diverse catalogue of songs, rich in warmth, texture and finely-honed lyricism.
When an early recording ended up in being used in a Hollywood movie, the band plowed the proceeds into recording their debut album The Silence and the Common Sense, blending folk, country and indie to produce moments of real delicacy alongside a healthy dose of grit and noise. They never forget their roots but they never let them hold them back.
The Sweetheart Revue came into being when lead singer Gerard Sampaio tried to impress woman at a party by saying he was in a band (which he wasn't) and inviting her to see them play. Friends were called, favours were begged and a two weeks later The Sweetheart Revue took to the stage. The woman from the party had seen through the ruse from the start, but was impressed nonetheless.
The Sweetheart Revue is made up of Moshe Price on drums, Liam McArdle on bass, Jen McKee on cello, accordion, keys and vocals, Jack Cocker on electric guitar and vocals, Heather Phillips on violin and Gerard Sampaio on acoustic guitar and vocals.
Other contributions come from friends and former members including Jamie Houston and Noel O'Donnell (Attic Lights), Rachel Mackenzie Allison (BMX Bandits), Tim Davidson (Attic Lights, Camera Obscura) and Sophie Pragnell Bell (Sister John).
Line Up
The Sweetheart Revue
Headclouds are Steven Gordon (vox/guitar), Al Charnley (guitar), Nick Hodgson (bass), Cole Gilroy (drums) and Jonny Lathbury (keys). The band formed in Heaton, Newcastle in 2017.
Notably acclaimed first single, 'Flowers', was released in August 2017, gaining extensive airplay from BBC Radio 1, Radio X and Amazing Radio, as well as high profile features on DIY and The Line of Best Fit.
Their second single, 'Seen It Before', was premiered by Phil Taggart on BBC Radio 1 in October 2017, going on to receive airplay from Tom Robinson's show on BBC 6 Music, further establishing the band's radio presence.
'Never Will', their third single, was released in March 2018. Building on the band's already prominent online standing, the track was premiered by The Line of Best Fit and lead to a feature in the** PRS Foundation**'s Compass periodical.
As well as earning high profile support slots with the likes of The Pains of Being Pure at Heart, The Big Moon and Ulrika Spacek in their first year, Headclouds also completed a short UK tour in October 2017 and were main support to Pronto Mama on their tour in December 2017.
The band are now preparing for a string of live dates and the release of their debut EP, 'Pure Honey'.
'All shimmering melodies, reverb-laden guitars and euphoric harmonies' - DIY Magazine
*'Guitars drenched in a haze of drifting reverb intertwined with ghostly vocal harmonies' *- The Line of Best Fit
'I hear bands every week that try to do that jangly, mid-summer pop vibe… Headclouds are well above the lot of them' - Phil Taggart, BBC Radio 1
View Profile