Songwriter Circle: Mick Hargan, Katee Kross & Andy McBride
+ 13 Crowes + Sean C Kennedy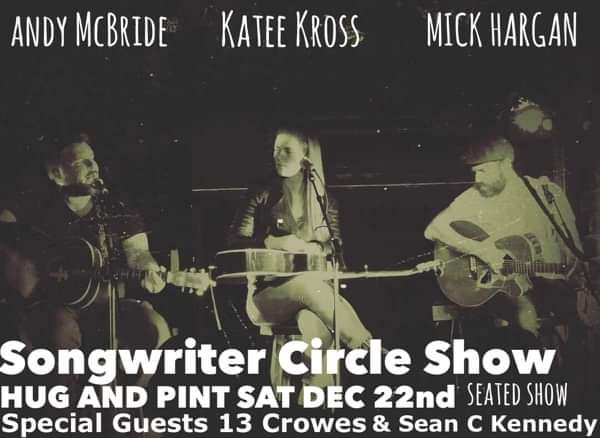 Mick Hargan, Katee Kross & Andy McBride perform their songwriter circle concert for only the 2nd time this year at Hug And Pint on Saturday December 22nd. This follows their sold out Celtic Connections show in January. 3 successful singer songwriters, 3 different personalities, 1 great concert. PLEASE NOTE This concert is theatre style with an interval.
Special Guests 13 Crowes ( Acoustic )
Doors 7pm - Tickets £10
Katee Kross
21 year old Scottish singer-songwriter from Bishopbriggs near Glasgow. Katee has already worked with some top names including Dougie MacLean, Barbara Dickson, Karine Polwart, James Grant, John Doyle, Findlay Napier, Tony McManus and Seasick Steve. Katee has written and released three full length albums. The first, 'Beautiful Dreamer' was released on the 26th March 2016, with the second 'Don't Fade To Grey' just a year later, and the most recent 'Body & Soul' in October this year at a sell out gig in Glasgow. A beautiful progression of original music following a young artist as she matures as a songwriter.
Andy McBride
Andy McBride is a songwriter originally from Glasgow, Scotland. Starting in early 2014 under the previous moniker of 'Panic Anchor' he released ' Heavy Country (2017) Codeine, Wine and Patsy Cline (2016) Going Blind (2015) & The Tennessee Sunday E.P (2014). In 2018 he released his new record 'Shipyard Soul' under his own name and toured extensively in Germany and Spain. Andy has recently worked with and shared a stage with 13 Crowes, Mick Hargan, Jared Hart, Rocky Catanese, Roy Zephyr, Bruce Foxton, From The Jam, Dave Arcari, Mike Tramp, July Talk, Katee Kross, Joe Purdy, Frankie & The Heartstrings, Eddy Gartry & Matt Andersen to name a few.
Mick Hargan
Mick Hargan is a hardworking songwriter from Glasgow. He has toured extensively including The United States promoting his two records over the years, headlining venues like Rockwood Music Hall, ( NYC ) & Hotel Cafe ( LA ). He has toured Extensively with 13 Crowes in Germany and the UK and toured in Iceland, Ireland and Spain with Andy McBride. Mick Hargan also curates his all ages Music Sessions in Glasgow and has appeared at festivals around the world and shared the stage with many great musicians. He works and tours consistently with Andy McBride, Katee Kross, 13 Crowes and The Vintage Apollo's and has shared the stage Oscar winners
Line Up
Songwriter Circle: Mick Hargan, Katee Kross & Andy McBride
Although punk rock, folk punk and rock n roll are often used in relation to 13 Crowes the band themselves refuse to be pigeon holed into genres. It's simply the working class sound of it's 5 members. Swearing only by the mantra of "4 chords and the truth".
Hailing from Southwest Scotland, 13 Crowes are a band that wear their heart and in uences on their sleeve. They are a band of experience and there is no denying who influences 13 Crowes and neither do they, instead they pay homage to those who have brought them together and impacted their lives so greatly. Bruce Springsteen, Tom Waits , Brian Fallon & poet Robert Burns to name a few. The storytellers who sing for the working class! Not trying to reinvent the wheel, the 13 Crowes are just trying to carry the torch and keep it burning.
The debut album Young Poets itself also refuses to be categorized. From the driving distorted guitars and angry gravelly vocals in the opening and title track Young Poets to the soft vulnerable heart wrenching slow dance tale between piano and vocals in the closing track Indiana, it's impossible to file this album under one certain genre. There is an unfiltered insight into the life of singer Cammy Black through his honest and heartfelt lyrics. The stories of youth, heartache, love, loss and memories of years gone by are told with unquestionable passion and honesty. You cannot help but get caught up in the lyrics, many of which are so relatable to us all. Accompanied by music that can get your blood pumping, get you to punch the air then bring you to your knees at the same time, Young Poets takes you back to your youth, the heartache and the memories but also allows you to look forward through the struggles that normal working class people might face, all in a electric 36mins.
With 3 European tours, 2 records and host of festival appearances in their short time together 13 Crowes do not rest on their laurels. 2018 starts off with a run of headline UK shows, quickly followed by a new single in April, a headline EU summer tour and multiple EU festival appearances.
13 Crowes will follow their debut album "Young Poets" will a second full length in late 2018.
View Profile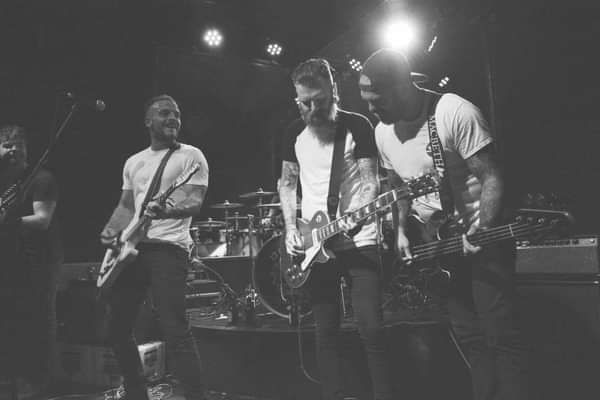 Sean C Kennedy