Strike The Colours
+ Rick Redbeard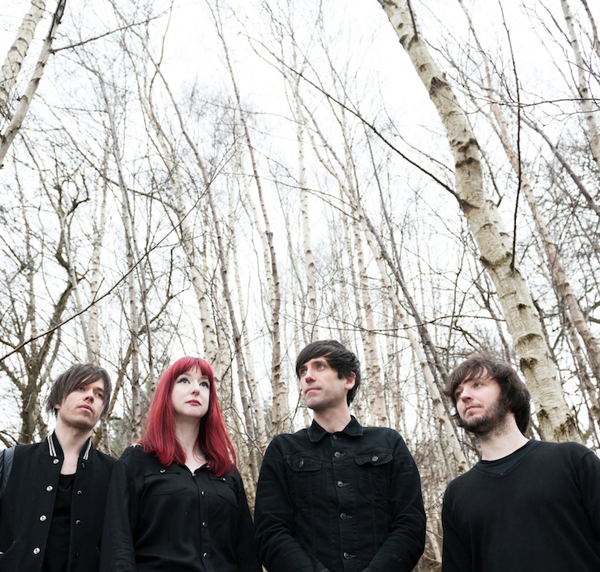 'And age now, creeping slowly like a vine, squeezing harder all the time' sings Jenny Reeve on 'New Snow', which seems more fitting than ever given the seven year gap between the creation and up-coming release of 'Flock', the long awaited third full length album from Strike The Colours.
Hailing from Glasgow, Strike the Colours were formed in 2006 around the song-writing of Jenny Reeve who has, in the time that has elapsed since the recording of Flock, released an album as a member of Bdy_Prts (2017), been on the road with a reunited Arab Strap (2016/17) and featured in award winning film "Where You're Meant To Be" alongside Aidan Moffat and folk stalwart, Sheila Stewart.
The interim period has also seen Strike The Colours' members pursuing multiple projects, touring and recording with Chvrches and The Kills (Scott), Emma Pollock, Arab Strap and Karine Polwart (Smillie) Virginia Heath and Kenny Anderson (McAulay, w/ BAFTA nominated film, From Scotland With Love), before finally finding this moment as the proper time and place to release this labour of love.
'Flock' saw Reeve writing in collaboration with long-time Strike members McAulay and Scott, with Graeme Smillie coming on board in 2010 to complete the line-up. Speaking of the album, Reeve says: "The intention for 'Flock' was to record the band performing almost entirely live, adopting a more collaborative method of song-writing and arranging".
Guided by the experience and knowledge of producer Paul Savage, this approach resulted in a progression from Strike The Colours first two albums, adding a more expansive and driving sound to the existing folk-tinged melodic and rhythmic intricacies that had become the band's signature. Lyrically, 'Flock' cuts deeper by exploring themes of separation, fear and depression, which were inescapable factors in the run up to the recording of the album.
'There's no peace in my head' attests Reeve in the disarmingly buoyant 'Final Eyes'. Reeve's ethereal vocal delivery is still the main feature, but it weaves amongst the multi-textured layers of guitars and keyboards resting atop the forceful and dynamic rhythm section that underpins the record, reaching full progressive throttle on songs like 'Old Oak Tree' and album namesake, 'Flock'.
Savage pushed the band throughout the 2-week recording which took place during the summer of 2011 at Monnow Valley Studios in Wales, capturing the energy of the band's performances by recording around the clock in the studio's iconic live room.
Throughout this 10-track L.P, Louis Abbott of Admiral Fallow frequently provides a vocal foil to Reeve, and, with Emma Pollock also featuring on the tumultuous 'Branches', it's clear that Strike the Colours' have taken the collaborative theme of this record seriously. However, the fact remains that 'Flock' at it's heart is a snapshot of a band experimenting at a specific moment in time; four performers in a room, playing with honesty, energy and creativity
Line Up
Strike The Colours
Rick Redbeard