Glasgow Anti Slavery Group presents:
Anti Slavery Fundraiser: Spinning Coin, Richard Youngs and RAZA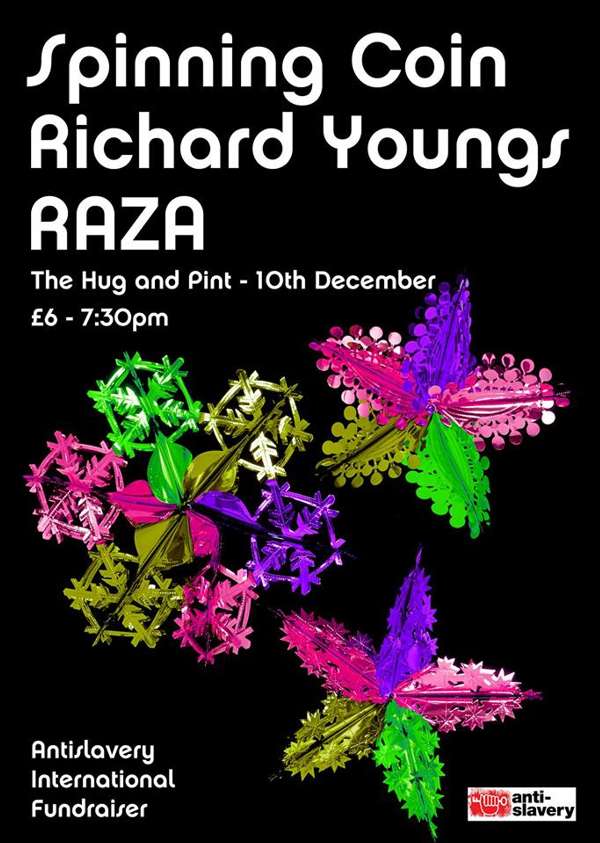 Glasgow Anti Slavery Group present a winter's night Anti Slavery fundraiser featuring Spinning Coin, Raza and Richard Youngs.
Money raised will go to Anti Slavery International, which works to end slavery throughout the world. They have projects in the UK and Europe, Africa and Asia, but our campaigning work covers the whole world. Together with local organisations they work to secure the freedom of those affected by slavery and press for effective implementation of laws against slavery. https://www.antislavery.org/
Entry is £6 waged/£4 unwaged.
SPINNING COIN
Spinning Coin are a band from Glasgow featuring members of passion pusher, breakfast muff, youngstrr joey, smack wizards, the yawns, neighbourhood gout, mr peppermint, eternal fags, plaaydoh...etc. The band have been catching eyes and ears all over since they formed; gaining praise from 6Music, touring with Real Estate and the mighty Teenage Fanclub and recording with Edwyn Collins at his home studio.
https://spinningcoin.bandcamp.com/
RICHARD YOUNGS
Richard Youngs is "THE iconic figure of the modern UK underground" (The Quietus) and has been making music since the start of the seventies. His early work centred on the family piano. When this was sold in the late seventies, however, the classical guitar and cassette recorder became his instruments of choice, along with anything at hand that made a sound. From then on he has played any number of roles with bands such as Astral Social Club, Concrete Hedge, No Deserts, Jandek and Future Pilot A.K.A. Recent collaborative work with Andrew Paine, Heatsick, Kawabata Makoto and John Clyde-Evans also show him as a highly social musician.
His catalogue of releases wanders into all kinds of zones over a vast array of albums on various labels including his No Fans imprint: they include accapella, guitars, pipes or electronics and come out of solitude and in partnership with atmospheres that range from fragmental folk to all-out fuzz.
RAZA
A self-styled "friendly musical conversation between a Scotsman and a Frenchman, using the medium of synthesisers and drums" RAZA – the name a reference to the musical chi called Rasa in Gamelan – first got together after meeting at the Glad Community Choir in Shawlands, Glasgow (singing Ivor Cutler). Blending Gav's love of wonky and melodious electronic music honed through bands and solo projects including Findo Gask, GRNR, Glamour Muscle and Honey and the Herbs, and Bertrand's playing style influenced by Afrobeat, Indonesian, Gamelan and Brazilian groove music, which previously saw him drum for Parisian prog tropical band Orval Carlos Sibelius, RAZA quickly established a unique sound.
Line Up
Anti Slavery Fundraiser: Spinning Coin, Richard Youngs and RAZA