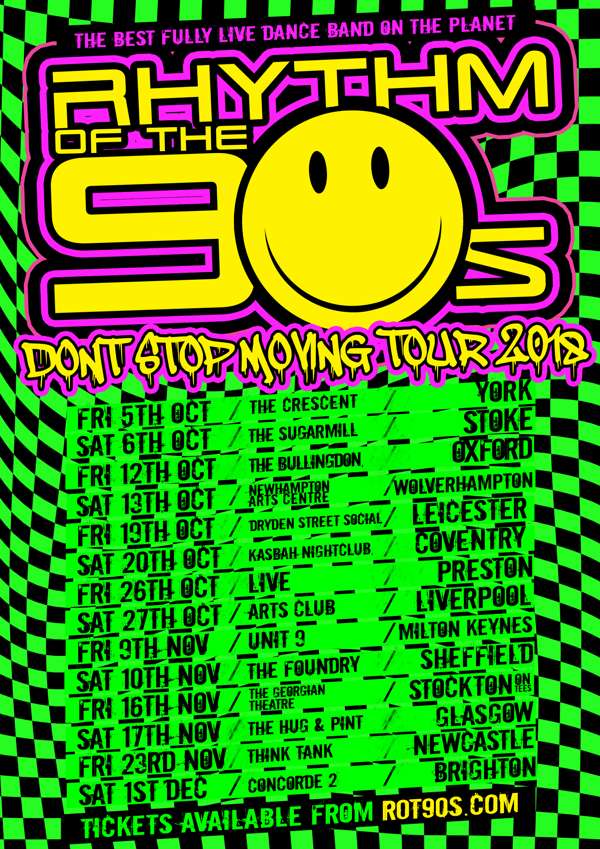 The Hug & Pint presents: Rhythm of the 90s Don't Stop Moving Tour 2018
The Best Fully Live Dance Band On The Planet
Line Up
Since its inception in 2012, The Rhythm of the 90's has become THE band to get any party started!
Armed with only simple idea to play the best dance hits from this seminal decade, the 7 talented musicians became the only fully live 90's dance band in the country. After a few shows, the band found themselves in the eye of 90's whirlwind and as word of mouth started to spread, so did the 90's fever. The last 18 months have seen them take the UK by storm and sell out show after show across the country. They have had over 100,000 views of their live videos on Youtube and Facebook and performed an incredible show at Portsmouth's Victorious Festival, where over 20,000 people bounced along to all their favourite 90's hits.
With Isle of Wight Festival, Victorious Festival and Love Saves the Day Festival performances this year, the popularity of the band just keeps on growing! It's only a matter of time before they have the whole of Europe bouncing, wearing dungarees and dusting off those shell suits. To quote the revered 90's philosophers 2 Unlimited "There's no Limit" and The Rhythm of the 90's intend to prove it.
View Profile