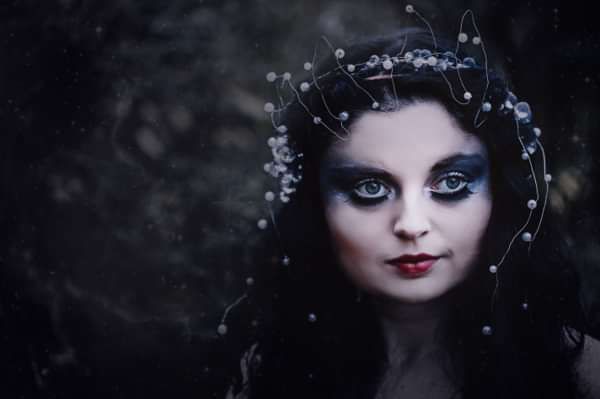 Fast rising star on the U.K. Alt- Americana/ Country scene Emily Mae Winters has that rare quality in a singer that makes critics reach for the superlatives. Described as having a voice that "stops you in your tracks" and "arresting, enthralling, tantalising" by Folk Radio UK, Emily combines straight-to-the-heart bittersweetness with her own unique passion and drama in performance. Emily Mae Winters' exquisite songs which sit between the gentle seas of folk and country are influenced by artists including Alison Krauss, Emmylou Harris, Gillian Welch and Sarah Jarosz. Emily's self-penned debut album Siren Serenade was produced by Ben Walker of BBC Folk Award winning Josienne Clarke and Ben Walker fame and Lauren Deakin Davies who's worked with the likes of Laura Marling and Peggy Seeger. Described as "Vibrant and experimental" by Songlines magazine, one of the record's standout tracks 'Anchor' won her the Guardian Songwriting Competition.
Siren Serenade was released to critical acclaim, picking up plays on U.K. radio including the BBC Radio 2 Folk Show, BBC Good Morning Sunday as well as international folk and Americana radio in the U.S. Winters received a scholarship to showcase at Folk Alliance International in the U.S. The album was then selected in the International Americana Music Show's top ten albums and featured in American Song writing Magazine's reviews of the month as well as being shortlisted for the Fatea Debut Album of the Year and winning the Best Debut Album of the Year in the Laurel Canyon Music Awards. Her first headline tour of the year led to invites to play to her largest audiences yet including Cambridge Folk Festival and Moseley Folk Festival among others. Winters embarked on her second headline tour of the year this October with a band, playing some sell out shows.
Winters is currently working on new material for the release of her second album supported by PRS Emerging Artist Fund. It is being produced by Matt Ingram (Lewis and Leigh, Florence and the Machine, Laura Marling). It will be previewed this Autumn with a band at venues across the U.K.
"Vibrant and Experimental" **** Songlines
"Outstanding.. rich and expressive." **** RnR (R2)
"There's a depth to her talent... I expect one day I'll use the phrase 'sounds like Emily Mae Winters' Americana UK
Line Up
Born in England, raised in and around the rugged coasts of southern Ireland, Emily Mae Winters' haunting folk songs are quickly permeating the folk and song writing scene. Emily Mae Winters formative years were spent living in Clonakilty, Co. Cork and where she immersed herself in the local music scene. Influenced by the sounds of traditional and contemporary Folk, Celtic, Country and Americana music, she learned to play the guitar, piano and whistle and began playing local music festivals .
Emily Mae moved to London in 2009 to pursue a History degree. Whilst at university, she began writing her own songs and in 2010 was a finalist in the UK Live and Unsigned competition. In 2012, she was offered a scholarship to study music and theatre at the prestigious Royal Central School of Speech and Drama. After graduating she performed in numerous theatre productions across the UK whilst continuing to enter song writing competitions and gigging in and around the heart of the acoustic / roots scene in London, quickly establishing herself as a writer and performer to be reckoned with.
A poetry enthusiast, Winters worked at the Poetry Cafe in Covent Garden and at Keats House Museum, Hampstead Heath where she ran 'Playing Poetry' events for fellow poets and musicians. She also ran poetry and music workshops for children at libraries and schools. Winters' passion for music and words plays out in the "construction" of her songs; crafted and poetic, receiving nothing short of excellent critical acclaim. As she became gradually more ensconced in the London folk scene and began performing her own headline shows, she met Radio 2 Folk award winner and musical partner to Josienne Clarke, Ben Walker.
Influenced by the likes of Nancy Kerr, The Unthanks, The Staves, Kate Rusby, Sarah Jarosz and Alison Krauss, Emily teamed up with Ben Walker to produce her first commercial release. Winters wrote all of the songs on the record and plays guitar and piano. Walker plays steel guitar and mandolin on the EP. Of the four songs on the EP, two are already award winning with 'Miles To Go' in the UK Songwriting contest Folk Category and 'Anchor' winning the folk category in the Guardian Songwriting Competition.
The EP was released in July 2016 to widespread critical acclaim including selections as being featured in Acoustic Magazine's featured summer releases. The tracks have been played on national folk shows including the BBC RADIO 2 Folk Show with Mark Radcliffe BBC RADIO SCOTLAND and BBC RADIO WALES as well as lots of regional radio stations and specialist folk shows such as The Folkspot, Blues and Roots Radio, Folk is Not a Rude Word, Acoustic Routes, Folk Union, On The Crooked Road and also international music shows such as The International Americana Music Show.
With planned support slots with BBC Radio 2 Folk Award winners Josienne Clarke and Ben Walker, Jim Moray and Hannah Sanders and Ben Savage, a well received club tent set at the Cambridge Folk Festival and comparisons to Nancy Kerr, Alison Krauss, Sarah Jarosz and Hannah Martin under her belt, there are exciting things ahead for Emily Mae Winters. Following the success of her debut release, Winters has recently signed with Folkstock Records and there are plans in the pipeline for an album co-produced by Ben Walker and Lauren Deakin- Davies (Laura Marling,Kelly Oliver)
View Profile