The Hug and Pint presents:
Sam Evian
+ Barrie James + Heir of the Cursed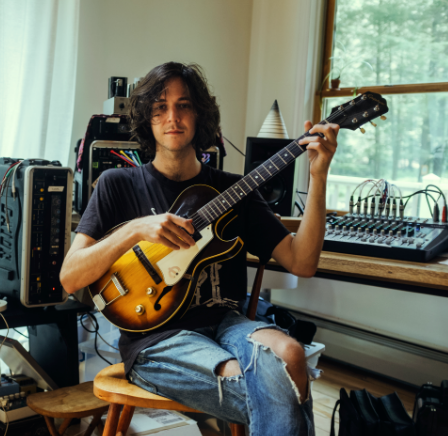 Sam Evian, the project of New York-based musician, songwriter, and producer, Sam Owens, will release his sophomore album, You, Forever, on June 1st via Saddle Creek. The album is available for pre-order here, including 100 limited edition LPs on yellow vinyl. Full of romance, You, Forever is Owens's first foray into a more soul-baring sensibility following his debut album, Premium (2016), and last year's collaboration with Chris Cohen, "Need You." Lead single, "Health Machine," was premiered this morning via NPR Music. It's a crunchy, slow-burning but deliberate stomper glowing with warm electric guitar, saxophone wailing, and Owens's reverb-laden lyrics about the unattainable health he would like to imagine for himself on tour. Something to keep in mind as the Sam Evian band tours in support of You, Forever. All dates are below. "Health Machine" comes with a video created by Brian Betancourt, Jadon Ulrich and Sam from footage Sam collected on journeys through the American west, journeys that inspired and informed the record. As it has been said: no matter where you go, there you are. With You, Forever, Sam Evian is here to add some eternity to that sentiment. "This is you, forever," he says. "It's about accepting that you are responsible for you, that you're in charge of your actions. Everything you do affects others and yourself, so, no matter what you choose to do, be there and learn from it." It's a mantra that powers Owens and is echoed across You, Forever.
You, Forever was written on the heels of touring Premium, including support runs with Whitney, Big Thief, Lucius, Luna, and Nick Hakim, all of which taught Owens much about feel and interaction. Further fueled by a desire to escape from the glow of screens and to embrace a sense of limitation, he wrote and initially recorded instrumental versions of the songs comprising You, Forever on a four-track cassette recorder using his family's instruments in the garage where he grew up in North Carolina. He then rented a house in upstate New York with his band -- Brian Betancourt (bass), Austin Vaughn (drums), Adam Brisbin (guitar), and Hannah Cohen (backup vocals) -- to record on an eight-track reel-to-reel tape in July of 2017. Focusing on instrumental grooves and the vibe he had achieved on the original recordings, Owens found the process of limiting himself so enlightening he decided to up the ante again by banning tuning pedals from the house. "Tuning pedals make it so easy to sound good together, so when you eliminate them it takes everything back to the '60s, which is when all my favorite records were born," he says. "It makes everything more questionable, weird, and unruly in a really simple way."
Line Up
Sam Evian
Barrie James
Heir of the Cursed