The Hug and Pint presents:
Bully
+ Dude York + Tongue Trap
Buy Tickets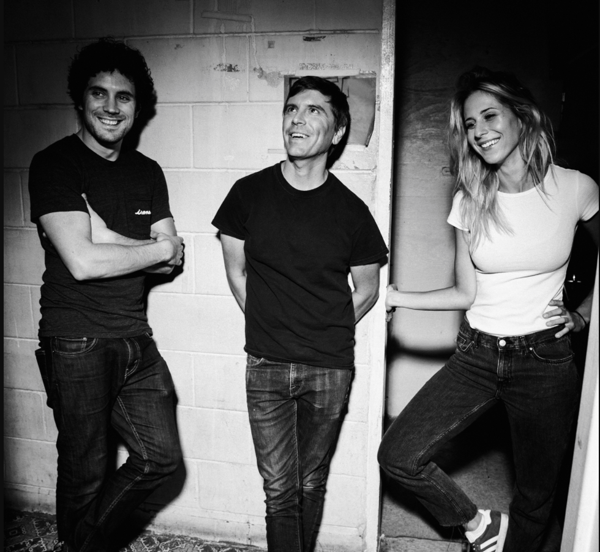 In rock - as in life - change is unavoidable, often painful, but ultimately necessary, and Alicia Bognanno and her band Bully have dealt with a lot of it since their debut record Feels Like hit in 2015. Now with a new label and another couple years worth of life experience, the 12 new songs on Losing feel like perfect anthems for a generation still learning to harness the power of resistance. With a vocal style that is as pretty as it is powerful, and emotionally resonant lyrics, Alicia channels the loss of innocence and reveals a raw honesty in songs that are distinctly hers. I love Bully the way I love Sebadoh, Dinosaur Jr and the Breeders. Their sound takes me back to the stripped down and thoughtfully engineered songs that haunt me long after they're gone and never get old. Another good reason to be with Sub Pop, who have always been associated with music that is built to last. I feel like all my best work has been born of heartbreak and upheaval; maybe most musicians feel that way. "The title of the record –Losing – kind of says it all," Alicia says. "After being on the road so long and coming back to Nashville we all had a lot of changes going on in our personal lives that we were trying to deal with / adjust to and that was really the motivation for this one." "Feel the Same" is about being stuck in the claustrophobia of a manic state of mind. It's Alicia's favorite song to scream. "Seeing It," she says, is about the unique anxiety and vigilance about personal safety that comes with being a woman: "Such a blurring place to be / stuck in your own body." Lately Alicia has been lending her voice as an advocate for gun control, women's rights and speaking out in support of animal rights. In some ways my generation were in a bubble in the 90s; I never gave any thought to what Bill Clinton was up to, for instance – but in 2017, Losing sounds like a personal and necessary call to arms to me; we need rock n roll now more than ever.
Line Up
Bully
In the summer of 2014, pop enthusiasts Dude York changed. When their workspace was in use one afternoon, practice moved to singer and guitarist Peter Richards' apartment, where they shared with each other a handful of songs in progress. Bassist and singer Claire England shared one of hers for the first time, and Peter and drummer Andrew Hall were immediately, viscerally moved by what they heard. Everything was reframed in seconds; if Dude York was once solely a vehicle for Peter's energy, and one in which he was its main character, it suddenly became a true collaboration, a neverending venture between the three of them with stops along the way in DIY spaces, makeshift studios, and anywhere else it led. "Love Is" and "Lose Control" are the first in a series of singles to be released this winter and documented evidence of this growth.
Change was something they desperately needed. A year of obsessive writing and recording became a means by which to stay sane in the wake of lost friends, visceral mood swings, and the feeling of being an active participant in destructive repetition. A job spent analyzing thousands of hours of recorded music left Peter desensitized by the tropes and conventions of songs as he once knew them, but he found beauty in pop equilibrium. Writing with new insight and clarity in mind, more collaboratively than ever before, and in an attempt to create forward motion in the face of a series of disasters, the songs that emerged hit everywhere at once.
Claire describes "Love Is," her anthemic side of the single, as an exploration into the boundaries between self-care and self-immolation: "It's about the balance between turning experiences into art and the line one crosses when realizing someone's a person and a participant in your stories as much as you are in theirs'." "Lose Control," Peter's side, is a whisper into the ear of a driver swerving into oncoming traffic, a death-drive post-punk daydream.
View Profile
Tongue Trap began at Edinburgh's Girls Rock School in 2016 and are already being noticed for their unflinching take on topics from relationships and sexual assault to eating tacos and getting your period on the bus.

Tongue Trap are a three piece from Glasgow made up of close friends Kim, Izzy and Alec who like to make pedals and record 'bedroom rock' together and are described as "sparkling with the right doses of playful gusto and pointed, feminist lyricism" by The Skinny Magazine.

Influenced by bands like the Pixies, Fugazi, Sonic Youth, Screaming Females, the Julie Ruin, the Microphones and Sleater Kinney. 
Tongue Trap have played all over Scotland having supported international bands like Cribs, Cherry Glazerr, Taco Cat and Skating Polly, Baby In Vain.
View Profile