Melody Makers presents:
Melody Makers featuring Attic Lights / Dropkick / The Wellgreen / Star Trip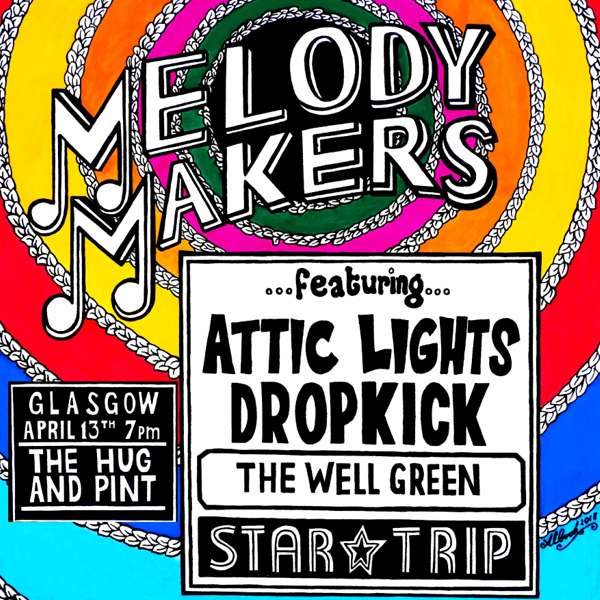 Dropkick 'Those who have yet to latch onto them are surely missing something special....Indie, powerpop, accomplished harmonies, alt.country tendencies. What's not to love?' The Herald newspaper (UK) Edinburgh-based Dropkick release their new album, Longwave, in March 2018 as a joint release with Pretty Olivia Records (Spain) and Sound Asleep Records (Sweden). 'Longwave' is Dropkick's most accomplished and fully realised collection of songs to date, demonstrating a return to more direct, jangly guitar-orientated songs, showcasing their ear for melody and harmony. As well as Scottish dates, the band will be playing shows in Sweden and Spain to promote the new record. 'A guarantee of Instant melodic fulfilment….Dropkick triumph in giving new edge to familiar themes.' (R2 Rock n Reel Magazine, UK) www.dropkickmusic.co.uk www.facebook.com/dropkickmusic video link – 'I Wish I Knew' https://www.youtube.com/watch?v=r_r8_-6ml0U
The Wellgreen Bio: The Wellgreen combine classic sixties songwriting, early powerpop and psychedelia on top of vintage recording techniques to create a familiar yet fresh & original sound.
Having toured extensively supporting Euros Childs & Stevie Jackson (as well as providing drums, bass, guitar and harmonies for both on their respective sets & records), The Wellgreen released their second album, Grin And Bear It on their own label, The Barne Society.
Video link: https://www.youtube.com/watch?v=MiCZdH0_ZUM
Attic Lights Bio: Formed in Glasgow's West-End, Attic Lights' sound was moulded in a secluded attic inspired by The Beach Boys, Flaming Lips, Weezer and Guided By Voices. Attic Lights second album, 'Super De Luxe' was released by Elefant Records in May 2013.
"Chiming 12-string perfection" (The Guardian) "Vocal harmonies weave in and out of this perfect pop" (The Sun) Coming on like The Eagles lassoing Fountains Of Wayne to The Beach Boys…transcendent" (NME) "Spellbinding" (The Fly) "Sumptuous harmonies" (Q)
Video link: https://www.youtube.com/watch?v=fw991E-xeI0
Website: https://www.facebook.com/Attic-Lights-7689807042/
Star Trip Bio: Star Trip are a Spanish band from Valencia who combine powerful, chiming guitars with a healthy dose of vocal harmonies, recalling bands such as Teenage Fanclub, Fountains of Wayne and Velvet Crush. This is their first time playing in Scotland.
Video link: https://www.youtube.com/watch?v=jsdbloeW2_E
Line Up
Melody Makers featuring Attic Lights / Dropkick / The Wellgreen / Star Trip